Mutualised civil service pension service is launched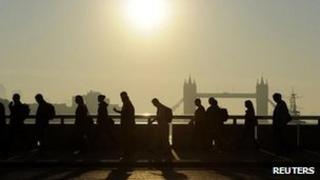 The running of the civil service pension scheme becomes the government's first mutualised Whitehall service, which the biggest employees union has condemned as privatisation.
The service administers the pensions of 1.5 million civil servants and under the shared-ownership model will be able to expand and bid for new business.
The government said this will deliver "better service" for members.
The pension scheme itself remains unaffected by the change.
MyCSP Ltd takes over running the state-run civil service pension scheme, and the 500 staff who run the scheme will share 25% of the business.
In a statement on its website, the Public and Commercial Services (PCS) union said that MyCSP staff "are being used in an experiment" and that the move "puts the safe administration of 1.5m civil servants pensions at risk".
"The campaign against privatisation and the coalition government's cover of 'mutualisation' will continue."
Taxpayers will retain a 35% stake in the business running the scheme, while a private business services company will own 40% of the business.
The government says the new model will increase productivity, contribute to the economy as a taxable business, and save taxpayers 50% on the cost of administering civil service pensions by 2022.
'World is watching'
"As a mutual, MyCSP will deliver better services for its pension scheme members, millions of pounds of savings for the taxpayer and a real sense of ownership for employees over what they do," said Cabinet Office minister Francis Maude.
"We are transforming a neglected back-office operation into a new competitive and responsible business - the rest of the world is watching."
Ministers are calling mutualisation a "John Lewis-style business", with the department stores' employee ownership system symbolising a new model of public service delivery.
PCS said the majority of staff want to remain in the civil service.
Former Labour Cabinet minister Lord Hutton is MyCSP Ltd's chairman.
He was a work and pensions secretary in Tony Blair's government.
In 2010, at the invitation of the coalition, he undertook a wide-ranging review of the cost of funding public sector pension schemes.
He recommended in two reports, in 2010 and 2011, that most of the schemes which cover staff such as civil servants, local government and the NHS, should be changed radically.
The main proposals, which have been adopted by the government in its current plans, are that the schemes should be changed from a final-salary to a career average basis.
Lord Hutton also recommended that many staff should pay higher contributions, and that they should also work longer before qualifying for their pensions, with the normal pensions age rising in line with the state pension age.