London 2012 Olympic football tickets go on sale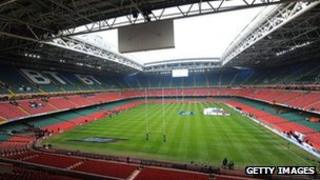 Some 1.4 million London 2012 Olympic football tickets have gone on sale.
The tickets became available from 11:00 BST, with the sales window due to stay open until 23:00 BST on 6 May, Olympics organisers Locog said.
A further one million tickets to other Olympic events will go on sale in the middle of May.
In the first hour of sales, some people reported problems in buying tickets while others said they had been successful in their purchases.
Locog said the "majority" of people were buying Olympic football tickets without problems but some faced a wait of 10 minutes or more.
Meanwhile, organisers have admitted only 10,000 tickets have been sold for the first event of the Olympics.
Great Britain vs New Zealand women's football is due to take place at the Millennium Stadium in Cardiff on 25 July - two days before the opening ceremony.
The London 2012 Organising Committee (Locog) says it is confident the Ticketmaster system will avoid the problem that caused sales of other Olympics tickets to be suspended in January.
The system is required to handle selling up to 250,000 tickets per hour.
'Great opportunity'
Buying a football ticket during the sale will not affect eligibility for future ticket sales.
Tickets start at £20 for adults, with discounts for people under 16 and over 60 available at some matches.
Locog commercial director Chris Townsend said: "Now the draw has taken place, we are delighted to put the remaining tickets on sale to see some of the world's most exciting young footballers in the Olympic Games.
"This is a great opportunity for people across the UK to be part of the Games, and see great matches at great prices."
When the batch of one million tickets go on sale, some 20,000 people who were mistakenly told they had tickets will be given a 24-hour head start in the sale.
In a further five-day window, the one million people who applied but missed out in earlier ticket rounds will be given the chance to buy on a first come, first served basis.
If there are any tickets left at the end of that period they may go on general sale.
Locog has resolved to raise a quarter of its £2bn budget through ticket sales.