Afghan death soldier named by MoD as Guardsman Michael Roland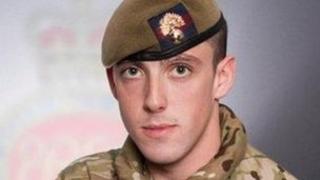 A UK soldier who died in southern Afghanistan on Friday has been named as Guardsman Michael Roland, from 1st Battalion Grenadier Guards.
The 22-year-old from Worthing, West Sussex, was shot during an exchange of fire while on patrol in the Nahr-e-Saraj district of Helmand province.
He was treated at Camp Bastion's hospital but died of his injuries.
The father of twins joined the Army in 2009 and deployed to Afghanistan for the first time at the start of April.
After his initial training, he spent a year undertaking duties at the Royal Palaces and participating in state ceremonial tasks as part of Nijmegen Company, Grenadier Guards.
He joined 1st Battalion Grenadier Guards in November 2010 and was a rifleman in Number Three Platoon, part of The Queen's Company.
'Bright future'
His family said: "Michael was a loving and caring son loved by his huge extended family and friends who are devastated by their loss.
"We are still coming to terms with losing him. Michael always wanted to join the Army and was so proud to be part of Queen's Company Grenadier Guards.
"Michael loved us all so much; with us he was not big and tough just gentle. We will miss him so much."
Lieutenant Colonel James Bowder, Commanding Officer 1st Battalion Grenadier Guards, said Guardsman Roland was "sparky, diligent and super-fit, he was a terrific soldier with a bright future".
He added: "We are all extremely proud of Guardsman Roland's selfless commitment to this important mission....
"Our prayers are with his baby twins, his parents, girlfriend and broader family. We share their great sense of loss and will never forget this most extraordinary of guardsmen."
Guardsman Roland, based at Main Operating Base Price near Gereshk in Helmand province, was part of the company team charged with searching compounds. He deployed on a three-day operation on 26 April.
Sergeant Archer, Platoon Sergeant 3 Platoon, The Queen's Company, said Guardsman Roland "put his job before anything else. A fit, keen soldier and loyal to the end, Guardsman Roland was the template to which all Guardsmen should aspire".
Defence Secretary Philip Hammond said: "It is clear that he was a brave man and highly professional soldier.
"The circumstances of his death by all accounts sum up his Army life. In the thick of the fight and looking out for his comrades."
The death takes the total number of British military deaths in the country since 2001 to 410.