Parliament protest rules upheld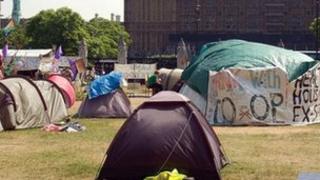 New rules designed to stop protesters sleeping near Parliament have been upheld in a High Court ruling.
In a test case, two judges rejected a challenge launched by peace campaigner Maria Gallastegui who has camped out in Parliament Square since 2006.
The "plainly lawful" rules did not contravene the Human Rights Act, Sir John Thomas and Mr Justice Silber said.
Under the rules, protesters are not allowed to set up tents or "sleeping equipment" in Parliament Square.
The judges said Ms Gallastegui could not be moved until after a further High Court hearing on Thursday 3 May - when her lawyers are expected to seek permission to appeal.
'Folly of war'
The Police Reform and Social Responsibility Act, which came into force in December 2011, gave Westminster Council powers to stop a "prohibited activity" .
They include the erection of tents and "other structures" which allow people to sleep or stay somewhere "for any period".
Ms Gallastegui argued the laws violated her rights to freedom of expression and freedom of assembly under the European Convention on Human Rights.
Speaking after the ruling, Ms Gallastegui, who is protesting against "the folly of war and armed conflict" in Iraq and Afghanistan, said she was hopeful she could still win.
"I'm not just fighting this case for me now," the 53-year-old said.
"There's a lull in protest at the moment.
"This is for the future, for if another issue comes along and there is a critical mass of people who want to protest against, for example, another war."
Ms Gallastegui, a former coach driver from Hammersmith, west London, said she had been involved with the Parliament Square protest for 10 years and had lived on site for six.
'Cautiously optimistic'
Westminster City Council said Ms Gallastegui - who obtained an injunction to stop it using the powers until the case is determined - was the last remaining protester on Parliament Square.
The council said it was "cautiously optimistic" any appeal would be unsuccessful.
It said it then planned to remove her equipment but would firstly speak to her "to try and find a solution to make the process as easy and as smooth as possible for everybody".
Council leader Philippa Roe said the ruling would be "welcome news for the millions of visitors who come to Westminster as well as those who live in the city".
"For too long, this green public space has been blighted by tents and encampments which have restricted the use of publicly-owned land.
"But we have worked hard to find a solution to this problem without prohibiting the rights for free speech and protests."
The Parliament Square Gardens peace protests began in June 2001 when the late Brian Haw set up camp in response to sanctions against Iraq.
His protest grew broader after the invasions of Afghanistan and Iraq.
In January this year, police cleared the "Democracy Village" camp, set up by protesters in May 2010, but Ms Gallastegui was allowed to stay because of her legal proceedings.