Q&A: Rehousing families on benefits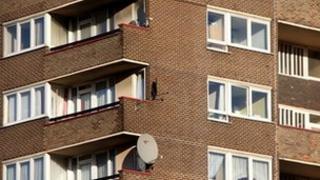 Newham council has been accused of "social cleansing" in London because it has written to a organisation 160 miles away asking for help accommodating people on housing benefit. But what is meant by social cleansing, and what will it mean for the city?
What is the practice which critics call 'social cleansing'?
The term 'social cleansing' has emerged from the row over housing benefit cuts, and allegations that they have led to poor people being moved out of particular areas. Newham council has been accused of it because it asked a Stoke-on-Trent housing association to accommodate up to 500 families on housing benefit.
The council says it cannot afford to house tenants on waiting lists in private accommodation because the gap between market rent prices and the local housing allowance is too great.
Why has it come about?
In 2011, the government introduced a cap on housing benefit which it said would be fairer on the taxpayer and prevent rents spiralling. It said expenditure on housing benefit had risen from £11.2bn in 1997/1998 to £20bn in 2009/10, and without reform it would increase to £24.7bn by 2014/15.
Ministers said the measures were necessary to tackle the rising cost of benefits and the budget deficit, and would provide greater incentives for people to work. The amount paid in benefits was reduced according to the size of a property, which resulted in a cap of £400 a week on a four-bedroom house, or £290 a week on a two-bedroom house.
Is 'social cleansing' a bad thing?
In 2010, Prime Minister David Cameron said it was unfair that people in receipt of housing benefit could live in prime locations that middle-income Britons could "only dream of". That same year, Abdi Nur, an unemployed bus conductor, decided he didn't like his council home in Kensal Rise, north London, and rented a £2,000-a-week townhouse in Notting Hill, presenting the local council with the bill - which they paid.
Opponents from across the political spectrum say the new housing benefits policy ignores the disparities in housing costs across the UK, and argue that thousands will be displaced from their homes and communities. The Chartered Institute of Housing believes 800,000 homes across the country will now become too expensive for social tenants, and charities predict an increase in homelessness.
In Paris, families who need housing benefit live on the outskirts of the city, in large purpose-built blocks of government housing. But this has brought an array of social problems which many say led to the French riots of 2005.
Will it result in a 'hollowing out' of parts of the capital?
In 2010, London councils estimated that 82,000 households were at risk of losing their homes in the capital. They argue that as rents in areas such as Luton, Slough and Reading increase, boroughs could be forced to place households even further afield in order to meet their legal duties.
But earlier this year, the Department of Work and Pensions (DWP) said people were not moving to cheaper rural areas in large numbers, and at least 30% of private rental properties would remain affordable, except in the most expensive parts of London.
The DWP says there is no reason to believe people will be left without a home, as eligible claimants receive up to £20,000 a year in housing benefit.
Has this not happened already?
There is some evidence to suggest that it has. Back in 2010, 13 councils told the BBC they were already re-housing people outside the city in preparation for the benefit changes; one of them was Waltham Forest, which moved people to Luton. A Cambridge University study predicted that only 36% of London neighbourhoods would be affordable to people on London Housing Allowance by 2016.
However, the cap only came into existence in January of this year, so it is difficult to predict how widespread this may become.
What other effects is 'social cleansing' likely to have?
Experts say that in the past, moving people to peripheral housing schemes led to social breakdown and put greater pressure on social services in these areas. The DWP has said that more classrooms may have to be built to accommodate pupils who relocate to other areas, but other schools could be left with a surplus of places which are costly to maintain.
Local MPs also say they expect some families to crowd into smaller flats to avoid leaving their communities, or spend less money on food and fuel to compensate for the cap in housing benefit.
But the government says it expects the lowering housing benefits to drive rents down.
Why is there a shortage of council housing?
The number of homes available to rent from local authorities has greatly decreased in the past three decades. Since the introduction of "right to buy" legislation by Margaret Thatcher's Conservative government in the early 1980s, more than 1.5 million homes have been sold off.
More people now live alone, meaning that there are more households, and house prices remain unaffordable for many people. Housing associations are finding it very difficult to keep up with demand, resulting in long waiting lists.