Animal cruelty and neglect convictions rise, says RSPCA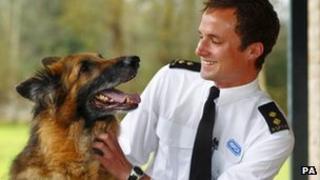 The number of people convicted of animal cruelty and neglect rose by nearly a quarter in England and Wales last year, the RSPCA has said.
Cases included a dog stabbed repeatedly with a potato peeler and a blind kitten found dumped in a carrier bag.
The animal charity said it was facing a funding crisis as a result of having to deal with so many cases.
Its chief executive Gavin Grant said the charity showed "zero tolerance" to people who abused animals.
The RSPCA said other cases included a collapsed and emaciated dog dumped on Christmas morning and a dog which ate her dead mate to survive after being abandoned in a flat.
As well as a rise in those convicted under the Animal Welfare Act and other legislation, there were also increases in both the number of prison sentences imposed for animal cruelty and bans on keeping animals.
'Breaking point'
There were rises of 24% in the number of people convicted for cruelty and neglect, 22% in convictions relating to cruelty to dogs and 21% in disqualifications on keeping animals imposed by the courts.
The RSPCA also saw increases of 27% in prison sentences handed out, 9.3% in the number of people reported to its prosecutions department and 13% in the number of phone calls received at its control room in South Yorkshire.
Mr Grant said: "The RSPCA faces a crisis that is stretching us to breaking point.
"We show zero tolerance to animal abusers. Anyone causing animals pain for profit or pleasure will be tracked down and prosecuted.
"We need the courts and councils, police and people who care to join us in standing up and getting justice for Britain's abused animals."
The cases have been highlighted ahead of RSPCA Week, the charity's major fundraising push which starts on 30 April.