Queen Victoria archive goes online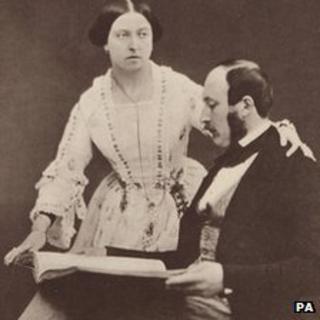 Rarely seen documents chronicling the life and reign of Queen Victoria have been made public on a new website marking this year's Diamond Jubilee.
The Royal Family released its archive of letters, journals, painting and photographs for the launch.
The website has nine sections tracing the life of Victoria as a princess to her own Jubilee celebrations in 1897.
It includes a letter to her uncle, King Leopold I, describing her future husband Albert as "sensible and kind".
Penned in June 1836 shortly after meeting him, the soon-to-be Queen wrote of her future consort: "He is so sensible, so kind, and so good, and so amiable too.
"He has besides, the most pleasing and delightful exterior and appearance, you can possibly see."
The site - Queen Victoria's Diamond Jubilee Scrapbook - also gives details of the young Princess Victoria's studies and timetable of lessons.
Life in mourning
One, dated July 1828 when she was aged nine, reveals she was studying a range of subjects including geography, arithmetic, drawing and natural history.
She was a bright student, whose progress was generally described as "good" or "very good", although she was considered "indifferent" to her music and spelling lessons.
Britain's longest reigning monarch had nine children with Prince Albert but never recovered from his death in 1861 from typhoid and wore black in mourning for the rest of her life.
Her withdrawal from public life made her unpopular, but during the late 1870s and 1880s she gradually returned to public view.
The website is divided into nine sections: The Young Princess; Becoming Queen; Love and Marriage; Family life; Home and Empire; Victorian Invention and Improvement; Queen Victoria's Household; Diamond Jubilee Day, and Jubilee Celebrations.
Victoria came to the throne aged 18 after the death of her uncle William IV in 1837.
She celebrated the 60th year of her reign in 1897, and the website concentrates much of its material on the milestone.
Many of the documents have been available to academics but, until now, not the general public.
The Royal Archive material also includes audio, film clips, bills and souvenirs.