Queen's 86th birthday marked with gun salutes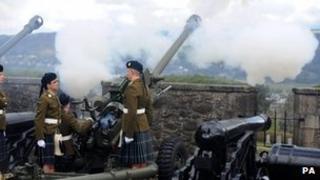 Soldiers have carried out gun salutes across the UK to mark the Queen's 86th birthday.
Dozens of cannons fired into the air at the Tower of London, Hyde Park, York's Museum Gardens, Portsmouth Harbour, Edinburgh Castle and Stirling Castle.
The Queen spent the day celebrating privately at Windsor Castle, where she often spends weekends.
The ceremonies come in the year of June's Diamond Jubilee, which will mark the monarch's 60 years on the throne.
Her official birthday is celebrated in that month.
Large crowds watched the gunfire, with more than 1,000 observing the 41 gun salute in Hyde Park.
Some 80 Irish draft horses were used to pull six World War I-era guns into position.
Spooked horse
The 41 rounds were then fired at 10-second intervals.
One of the animals became spooked by the gunfire and bolted, but there were no injuries.
In York the troops were inspected by the Archbishop Dr John Sentamu ahead of the display.
The largest salute was at the Tower of London, with 62 shots fired.
That included 21 shots for the Queen's birthday, 20 because it is a royal palace, and 21 to follow a tradition in which ships would fire their guns before entering the City of London to show they were not threatening.
No projectile is fired from the guns during the salutes.