Tributes paid to late Labour peer Lord Ashley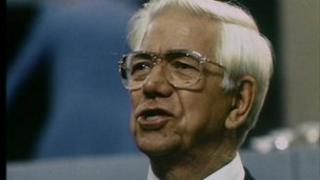 Tributes have been paid to veteran Labour politician Lord Ashley, who has died at the age of 89.
As Jack Ashley, he became the first deaf member of Parliament when he lost his hearing after an operation in 1968, two years after being elected member for Stoke on Trent South, before becoming a peer in 1992.
In addition to his work campaigning for the disabled, particularly the deaf, he championed the rights of victims of domestic violence and bullying, and was involved in getting increased compensation for children born with disabilities as a result of their mothers having taken the drug thalidomide.
Ed Milliband, Labour party leader
He led an amazing life and will be remembered with deep affection, profound respect and great admiration.
David Cameron, Prime Minister
He was a tireless campaigner for disabled people and had a huge impact, not just through his charity work and pushing for legislation in Parliament, but also in changing attitudes.
It takes characters like Jack, with his extraordinary tenacity, to push for that kind of positive change.
Gordon Brown, former Labour prime minister
Jack Ashley was the greatest champion Britain's disabled have had.
He was compassionate, direct, forceful and radical.
The man who, speaking with the authority of personal experience, took the cause of disabled men and women into the chambers of Parliament and to the heart of government.
Nick Clegg, deputy prime minister
Lord Ashley's life is an inspiration to all. His tenacity and courage made this country a better and fairer place for people with disabilities. He was a great man who has left a great legacy that should never be forgotten.
David Blunkett, former home secretary
By sheer tenacity and latterly the use of technology, he was able to demonstrated that only could he work on equal terms, but achieve a great deal more than most of us in politics are able to boast about.
Harriet Harman, deputy leader of the Labour Party
So sad about Jack Ashley - beacon for the Labour Party and pioneer for disability rights.
John Prescott, former deputy prime minister
Heartbroken to hear of the death of my good friend Jack Ashley.
A tireless disability rights campaigner and a giant of the Labour movement.
Harold Evans, former Sunday Times editor at the time of the thalidomide campaign
Jack Ashley was a lionheart in British public life - enormous debt is owed to him, he was so brave and ingenious.
He could have been a great prime minister but he couldn't take up a cabinet position because when was about to enter government he had a slight deficiency in one ear, went of an operation and ended up deaf in both.
Susan Daniels, chief executive of the National Deaf Children's Society
A passionate advocate for deaf and disabled people, securing important victories for them in parliament and working tirelessly to ensure that they had a voice at the highest levels.
Jackie Ballard, chief executive of Action on Hearing Loss
He was a champion for people of all disabilities. Jack never stopped working for what he believed in right up until his death... He was a tireless campaigner and there are many people in this country who have a lot to thank him for.
Lord Morris of Manchester
His passing will be mourned by everyone who had the privilege of knowing him.