Children's self-portraits cover Buckingham Palace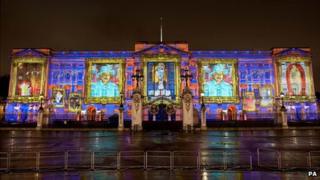 Huge projected images of the Queen, made up of thousands of children's self-portraits, are covering Buckingham Palace each night until Saturday.
More than 200,000 self-portraits have been used to create the images.
The Prince's Foundation for Children & the Arts created the artwork to celebrate young people before the Diamond Jubilee and London 2012 Games.
CEO Jeremy Newton said its Face Britain project was "about empowering children to explore their identity creatively".
"We had to get the Queen's approval, of course, because we're projecting on to the front of her home," he said. "I'm delighted to say Her Majesty loved the idea and loves the imagery."
Twenty-four projectors are used to cover the entire facade of the palace with images, including two 15x10m images of the Queen, from 20:30 to 23:15 BST until Saturday.
The self-portraits, by children aged 16 and under, are being simultaneously broadcast on big screens in 18 locations across the UK.
Celebrities including Adele, Jamie Oliver and Sir Cliff Richard have also donated self-portraits, which will be auctioned online from 3 May. Self-portraits by well-known artists and the Prince of Wales will be auctioned off at a Gala dinner on 9 May.