Soldier killed after blast named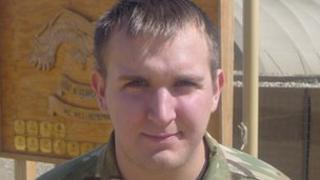 A soldier who died of his wounds in a UK hospital after an explosion in southern Afghanistan last week has been named by the Ministry of Defence.
Sapper Connor Ray, 21, serving with 33 Engineer Regiment, was wounded whilst hunting for explosives.
He was flown back to the UK where he died of his wounds at Queen Elizabeth Hospital, Birmingham on Wednesday.
The number of soldiers killed in operations in Afghanistan since 2001 now stands at 409.
Sapper Ray, from Newport, south Wales, was searching a compound previously used by insurgents in the Nad Ali district of central Helmand when he was seriously injured by a bomb, on the eve of his 21st birthday.
He joined the Corps of Royal Engineers in June 2009 and took up his role as an advanced searcher in 33 Engineer Regiment bomb disposal unit, based at Wimbish in Essex, in 2010.
The Mod said during his time in Afghanistan, Sapper Ray and his team successfully undertook a number of high risk searches which "undoubtedly saved numerous British and Afghan lives".
'Amiable and upbeat'
In a statement his family said they were "intensely shocked, distressed and saddened after losing our hero Connor Ray".
"In heaven with his mum now, we will always remember his love of life, his sense of humour and cherish the short time he had to touch our lives. We would like to thank everybody for their kind words, love and support at this tragic time," they said.
Lt Col Simon Bell, Commanding Officer 33 Engineer Regiment, said Sapper Ray's tragic loss had shaken the unit deeply.
"An extremely positive and determined young soldier, Sapper Ray was a real team player. Amiable and upbeat, he had a natural ability to encourage and inspire others with his limitless optimism," he said.
"A very professional soldier, he had taken to the extremely challenging role of being a High Assurance Searcher with gusto and had already demonstrated significant potential in this specialist role. Sapper Ray undoubtedly had a bright future ahead of him."
Maj Ben Hawkins, Officer Commanding Operations Squadron, Explosive Ordnance Disposal and Search Task Force, said: "Deliberately going into an area suspected to contain improvised explosive devices is perhaps one of the most challenging jobs in the world; to do so takes a certain type of character.
"It demands a stoic resolve and resolute dedication. Sapper Ray had these virtues in abundance."