Would-be plane bomber has sentence cut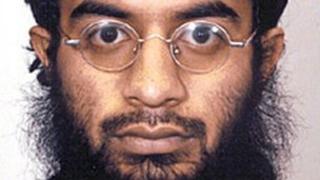 A British would-be suicide bomber jailed for plotting to blow up an aircraft has had his sentence cut after he assisted prosecutors in the US.
Saajid Badat, 33, from Gloucester, was jailed for 13 years in 2005 and would have been released in July two-thirds of the way through his term.
His sentence was cut to 11 years after he agreed to testify at a forthcoming terror trial in the US.
Badat was freed from prison in March 2010, the Parole Board has said.
The forthcoming trial, in Brooklyn, New York, is that of Adis Medunjanin, who is accused of plotting to bomb the New York subway.
It is the first time a convicted UK terrorist has entered into an agreement with the Crown Prosecution Service (CPS) to give evidence in a trial against other alleged terrorists.
Sue Hemming, head of the CPS special crime and counter terrorism division, said the decision had not been taken lightly.
She said: "We considered very carefully the merits of entering into this agreement with a convicted terrorist, and we believe that the administration of justice internationally benefits from such an agreement.
"This trial is the first time a UK convicted terrorist has agreed, under the terms of our agreement, to give evidence in the United States. This will be in the trial, opening today in New York, of Adis Medunjanin, relating to an alleged al-Qaeda martyrdom plot in New York from 2008-2010.
"Badat has helped with investigations in this country, he continues to co-operate and has agreed to testify in other trials if called upon."
She added: "While in prison he fully co-operated with investigators in the counter terrorism command of the Metropolitan Police Service and US law enforcement officers in the Federal Bureau of Investigation and provided information of overwhelming importance in relation to investigations they were conducting."
'Manipulated and exploited'
Badat's sentence was reduced in November 2009.
An order banning reporting of the move, put in place until he was due to give evidence in public, has now been lifted.
The court documents from November 2009 - published for the first time by the CPS - say that Badat was assessed to be of "potential use" in relation to between 12 and 18 future trials.
Prosecutor Richard Whittam QC said Badat's "main motivation" in helping had been to prove he had renounced terrorism with actions as well as words.
"He sees himself and others like him as victims manipulated and exploited by the likes of Osama Bin Laden and Khalid Sheikh Mohammed.
"He (Badat) has firm beliefs that al-Qaeda has hijacked Islam, misinterpreted the religious creeds for his own ends and thereby manipulated and pressured many Muslims into terrorist related-activities", Mr Whittam added.
In 2005, the Old Bailey heard that Badat, who had trained in Afghanistan and Pakistan, was given an explosive device designed to evade airport security.
He had booked a ticket to fly from Manchester to Amsterdam for an onward journey to the US, during which the bomb was intended to be detonated.
The device was said to be identical to that used by "shoe bomber" Richard Reid, when he tried to bring down a flight from Paris to Miami.
Badat backed out of the plan and kept the bomb parts in two suitcases at his house before he was eventually arrested in November 2003.