What is the role of police community support officers?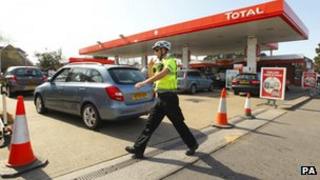 Residents are to be consulted on South Yorkshire Police's plan to replace beat bobbies with police community support officers (PCSOs).
Police Community Support Officers were launched in England and Wales in 2002 to tackle the fear of crime and provide back up to forces. But what is their exact role and what powers do they have?
They do not have powers of arrest, cannot interview prisoners or carry out the high risk tasks of police officers.
Introduced under Police Reform Act 2002 - starting in the Metropolitan Police area - PCSOs are meant to help reduce crime and anti-social behaviour.
They are also expected to reassure and advise the public, and deter crime with visible, sworn officers on foot patrol.
Support officers do have powers to detain people.
They may use reasonable force to prevent a person "making off", while waiting for a constable or accompanying them to a police station.
Home Office figures from September last year show there are 15,469 PCSOs in England and Wales, down 5.5% on 2010 figures.
There were 135,838 police officers, down 4.2%, and 69,407 police staff, an 11.3% fall on the previous year.
PCSOs work as part of a force's neighbourhood policing team, supporting warranted officers and community action teams to solve local problems.
They deal with minor offences, under powers granted by a chief constable, and support frontline policing with house-to-house enquiries, providing crime prevention advice, and guarding crime scenes.
In most forces, they are equipped with a protective vest, but do not carry handcuffs, batons or sprays such as CS gas, because they are not deployed in confrontational situations.
They carry a radio, and often a mobile phone.
PCSOs have powers to stop and search and to take photographs of people under the Terrorism Act 2000.
They can seize vehicles, carry out road checks and control traffic, and can also enforce a cordon.
PCSOs can require a person to give their name and address.
The power to detain may be used when an officer believes somebody has committed an offence, fails to give a name or address, or who they believe has provided false details.
People may be detained for up to 30 minutes before the arrival of a police officer.
Officers can seize alcohol, tobacco and drugs.
Fixed penalty notices can be issued by a PCSO to people who cycle on a footpath, litter or commit offences under dog control orders.
Penalties may also be issued for disorder or truancy, dog fouling or graffiti.
Offices have powers to send groups under 16 home, and remove children breaking a ban or curfew notice.
As well as highly visible, uniformed foot and cycle patrols, PCSOs also make house visits to gather intelligence or CCTV footage.
PCSOs work with schools and young people as well as supporting crime and disorder reduction partnerships. Support Officers often work with Neighbourhood Watch, Community Watch, Business Watch, Pub Watch, Farm Watch and Horse Watch schemes.
They also work with religious and business leaders.
No qualifications are needed to become a PCSO - although applicants English should be "proficient" - and prospective officers may have to pass a fitness test.
Community officers may be of any nationality, between the ages of 18-65, but must a UK resident.
A force performing some of their duties has been set up in Scotland, but funds were not found to establish PCSOs in Northern Ireland.