Environment Agency warns of flash flood risk in drought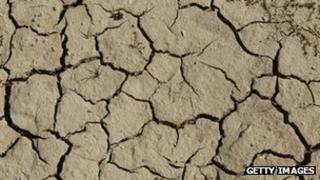 Drought conditions affecting much of England could increase the risk of flash flooding in heavy rain, the Environment Agency has warned.
Hosepipe bans were introduced in parts of southern and eastern England on 5 April after one of the driest two-year periods on record.
But the agency said "dry, compacted soils" absorbed water less easily and future storms could cause flash floods.
It is encouraging people to use its new Facebook FloodAlerts application.
Head of flood incident management Craig Woolhouse said drought conditions meant that flooding "may be far from people's minds" but that the risk could not be ignored.
"Being prepared is vital to help reduce the risk of flooding," he said. "We are urging communities to use the new application, alongside our existing Floodline Hotline and website updates, to keep one step ahead of future floods."
The Environment Agency's FloodAlerts application allows Facebook users to receive messages when a flood alert or warning is issued in their area. The information is updated every 15 minutes.
The Environment Agency and software developer Shoothill believe that it is "the world's first social media flood warning application".
It can be found by entering "FloodAlerts" into Facebook's search engine.