Newspaper review: Papers' worry over Syria violence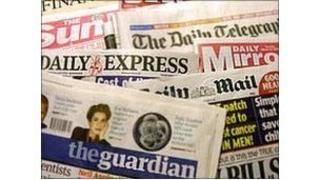 The continued violence in Syria makes the front pages with the papers reporting on how the fighting has spilled over into Turkey and Lebanon.
The Daily Telegraph states the US was "outraged" Syrian forces had shot at refugees trying to leave the conflict-ridden country.
It adds that Turkey has declared that a UN-backed peace initiative had "failed."
The Times warns that President Bashar al-Assad's regime has "touched new depths of barbarism".
Conserve cash
The Daily Mirror says a tycoon who donated to the Tory Party and was invited to Conservative social events has accepted a police caution for harassment.
But William Ives he says he never harassed his ex-wife and the donations gave him "no influence whatsoever".
The Guardian reports that senior shadow cabinet ministers are questioning if Labour MPs should be banned from standing in mayoral elections.
The party is trying to conserve cash rather than spend it on by-elections.
The Independent has access to a leaked memo which it claims reveals plans by lobbying firms to "help big business exploit" petitions for ordinary people.
It warns the EU's Citizen Initiative - designed to be a link between people and policymakers - could be misused.
'Snubbed firms'
The Telegraph says the drought in parts of the country is so bad, companies are considering moving water around the UK.
It reports Severn Trent is proposing to sell water for the first time to companies with a hosepipe ban in place.
With the Olympics just around the corner, the Sun has carried out an investigation into 2012 merchandise.
The paper says that British firms have been "snubbed" with just 138 items of the nearly 900 items sold on the London 2012 website produced in the UK.
xThe Daily Express dedicates dedicates a page to sheds thanks to a study which suggests the average Briton spends five months of their life in the garden building.
The piece is illustrated with celebrity sheds to be displayed across the UK.