UK soldier killed in Afghanistan named by the MoD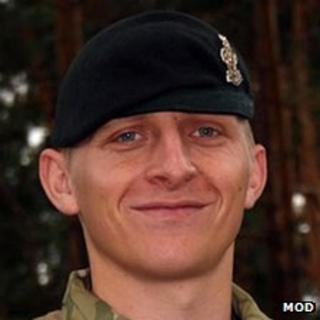 A British soldier who died more than two months after being injured in an explosion in Afghanistan has been named as Cpl Jack Stanley.
The 26-year-old, from The Queen's Royal Hussars, died on Sunday at Queen Elizabeth Hospital in Birmingham.
The soldier, from Bolton, had been wounded in a blast caused by an improvised explosive device (IED) on 3 February.
The MoD described him as "a lynchpin of his Company's tight-knit community".
A Ministry of Defence statement said he was "an exemplary soldier" who would "be sorely missed and never forgotten."
It also underlined his talent at football. He played for the Regimental team that won the British Army Cup in 2010 and the Cavalry Cup in 2011.
Cpl Stanley, who first joined the Army in 2003, had also served twice in Iraq.
His fatal injury came while he was on a patrol tasked with improving understanding in the area of Pupalzay Kalay, east of Lashkar Gah city.
He was evacuated to Camp Bastion Role 3 Medical Facility before being transferred to the Queen Elizabeth Hospital in Birmingham for intensive treatment.
Cpl Stanley's mother, Brenda, said: "Jack was a kind, generous lad with a ready smile. His dedication to his regiment was equalled only by his passion for Bolton Wanderers Football Club.
He fought so hard to stay with us and the devastation we feel cannot be described. The world is duller without him and heaven brighter."
Major Alexander Porter, Officer Commanding C Company, Combined Force Lashkar Gah (The Queen's Royal Hussars Battle Group) said it had been "an honour and a privilege" to command Cpl Stanley.
"His enthusiasm, sense of humour and professionalism were infectious and his subordinates had a clear sense of loyalty to him."
"We have all been deprived of one of the Army's finest soldiers and he will be dearly missed", he added.
British military deaths in Afghanistan since 2001 now stand at 408.