Simon Cowell congratulates The Voice over ratings win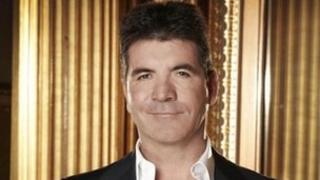 Simon Cowell has congratulated the BBC after The Voice was watched by more viewers than Britain's Got Talent over the weekend.
The music and media mogul praised BBC1 controller Danny Cohen and The Voice via Twitter.
He wrote: "A slightly irritated congrats to Danny and the BBC."
An average of 9.5 million viewers watched The Voice, compared with 9.1 million for BGT, according to statistics from the two broadcasters.
The BBC's singing competition also had a bigger share of the audience - 41.1% - when it aired between 1900 BST and 2020 BST. ITV's talent show had a 37.3% share when it was broadcast between 2000 BST and 2115 BST.
Mr Cowell also made a light-hearted reference to Pudsey the dancing dog who appeared on Saturday night's Britain's Got Talent show, saying the The Voice "didn't have a dancing dog".
He added: "I thought our team made a fantastic show last night and congrats to them as well. Loving the show this year."
ITV said Saturday's broadcast of Britain's Got Talent was watched by a peak audience of 11.9 million - 11.3 million excluding ITV's +1 channel - representing a 47% share of viewing.
The Voice's peak was lower at 10.7 million. But the BBC said it had won "by a massive margin" in the 20-minute crossover after 2000 BST when the two shows went head-to-head.
The Voice averaged 10 million during this period, against 6.2 million for Britain's Got Talent, the BBC said.