Virgin Atlantic investigates celebrity flights leak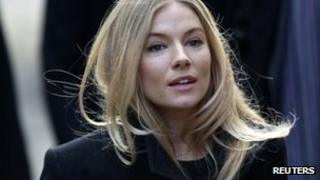 A Virgin Atlantic employee has resigned following allegations she passed on eight celebrities' flight details to paparazzi agency Big Pictures in 2010.
Among those reportedly affected were Tottenham Hotspur player Jermain Defoe, actress Sienna Miller and singer Cheryl Cole,the Guardian reported..
Virgin Atlantic has said it is investigating while Defoe's spokeswoman said he was consulting lawyers.
The employee, who has not been identified, has denied the allegations.
Other celebrities named by the paper include Ms Cole's ex-husband, the Chelsea footballer Ashley Cole, actresses Scarlett Johansson and Gwyneth Paltrow and pop stars Robbie Williams and Nicole Scherzinger.
'Deep regret'
A spokeswoman for the airline said it was in contact with the eight celebrities and added: "The allegations that have been raised are extremely serious and we have launched an immediate investigation.
"The security of customer information is our highest priority and we have robust processes in place to ensure that passenger information is protected.
"It is too early to draw conclusions on this matter but of course we would deeply regret any concern that these allegations may cause the individuals involved."
Defoe's spokeswoman said the allegations amounted to a "serious breach of privacy", while Miller's spokeswoman said her client had no comment to make.
'Intimidating situation'
Miller obtained an injunction against the paparazzi in 2008, with Big Pictures paying her £53,000 and agreeing not to follow her anymore after she said her life had been made "intolerable" because of pursuing photographers.
Last November, she told the Leveson Inquiryinto media standards she often felt "intimidated" by the paparazzi and they "would go to any lengths to try to upset" her.
She told the hearing: "I would often find myself - I was 21 - at midnight, running down a dark street on my own with 10 big men chasing me.
"And the fact they had cameras meant it was legal. Take away the cameras and what have you got? A pack of men chasing a woman, and obviously that's a very intimidating situation to be in."
Big Pictures was founded by celebrity photographer Darryn Lyons in 1992. It claims it is the world's largest celebrity picture agency.
Lyons gave his own evidence to the same inquiry in February, where he said he had no reason to believe paparazzi he uses acted unethically.
He also accused celebrities and their public relations people of using paparazzi as a "publicity tool" to "raise their profile".
He said: "We do not know from one day to the next whether they are going to want it or not.
"It is so ambiguous - we do not know what is right and what is wrong.
"Fifty per cent of celebrities want to be photographed and they love it but others will pick and choose their terms," he said.