Leveson Inquiry: Police reluctant over hacking email - Keir Starmer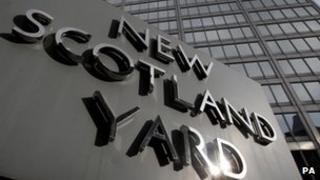 A Met Police chief was reluctant to re-examine an email suggesting newspaper phone hacking was more widespread than previously thought, an inquiry heard.
There was "a degree of pushback" from ex-Assistant Commissioner John Yates, Director of Public Prosecutions Keir Starmer told the Leveson Inquiry
Mr Starmer said he had suggested further investigation of the "For Neville" email was required.
It pointed to additional suspects at the News of the World, he agreed.
The email - understood to have been sent to former chief reporter Neville Thurlbeck - was unearthed as part of the force's original investigation into hacking of voicemails at the now-defunct Sunday tabloid, the News of the World (NoW).
However, there was "no trace" of it ever having been passed to prosecutors and it was bundled as unused material in the case against ex-NoW royal editor Clive Goodman and private investigator Glenn Mulcaire, Mr Starmer said.
'Dig more'
The pair were jailed in January 2007 after admitting intercepting voicemail messages left on royal aides' phones.
The inquiry was told before the case was heard, police had told the prosecuting barrister that there was no evidence against the paper's other journalists.
However, when the email's existence came to public attention in 2009, Mr Starmer asked for it to be faxed to him.
"I was concerned as to whether there had been other suspects," Mr Starmer told the inquiry into press ethics and the media's relations with police.
He said the email's contents did not sit with what he had previously been told by police - that nobody else was implicated in the investigation.
"It was a flag saying 'look here' or 'dig more'," he agreed.
Mr Starmer said he requested a meeting with Mr Yates, a former Scotland Yard counter-terror chief.
But he said there was "a degree of pushback against my suggestion" that there should be further investigation.
He said Mr Yates later told him "in confident terms" there was "nothing new, Mr Starmer, you need not concern yourself".
But Mr Starmer added: "I became increasingly concerned about the confidence with which those answers had been given to me."
'No such evidence'
He accepted he may have felt a "degree of frustration" at the decision not to reopen the investigation.
Earlier, the barrister who prosecuted Mulcaire and Goodman, David Perry QC, told the inquiry he raised the question of whether other journalists were involved in phone-hacking with Scotland Yard detectives in August 2006.
"I was concerned to discover whether this went further than just the particular individuals with [whom] we were concerned... the question had to be whether it was journalists, to the extent of the editor."
"We were informed there was no such evidence. I cannot recall which officer gave that reply," added Mr Perry.
The Metropolitan Police was criticised for failing to reopen its phone-hacking investigation after the Guardian published an article on 9 July 2009 alleging there were more journalists and more victims involved.