Newspaper review: Net surveillance under scrutiny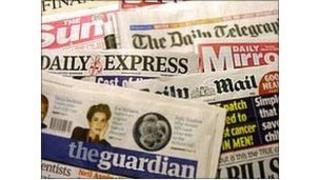 Just about every front page will make uncomfortable reading for ministers as the papers round on government difficulties over plans for internet surveillance and secret trials.
"This is what it feels like when the honeymoon is over," writes Sam Coates in theTimes.
He says Tony Blair enjoyed eight years of grace; Gordon Brown four months but David Cameron has never before had to deal with sustained criticism on a range of fronts.
TheDaily Mirror says signals of backtracking over phone and email surveillanceshould not stop alarm bells ringing.
It says ministers may be retreating after strong opposition to lick their wounds, but the paper fears they may be back because officialdom has an insatiable appetite for monitoring what we say and do.
In theIndependent, Matthew Norman reflects that a wise PM would wait a few days, devolve the issue to a committee, then never mention it again.
TheDaily Mail welcomes Nick Clegg's interventionand opposition to the current proposals for secret trials.
It spies what it calls the deputy prime minister's "reawakened love of liberty" and wonders if the Liberal in the Lib Dem leader is not quite dead after all.
TheDaily Telegraph warns that the country's airports will be reduced to "gridlock"at Easter because there are not enough passport check staff.
The queues could even leave passengers stranded on planes, it reports.
TheGuardian believes James Murdoch's decision to step down as chairman of BSkyB was the sacrificehe hoped he would not have to make.
But it thinks his departure does little to resolve wider issues surrounding the company.
TheDaily Express says it took Mr Murdoch a long time to realise just how toxichis presence at the helm was.
Finally, could Beatlemania be about to return? The Mail andDaily Star report that the Fab Four's sons are considering forming a "next generation" band.