London 2012: Heathrow airport unveils Olympic terminal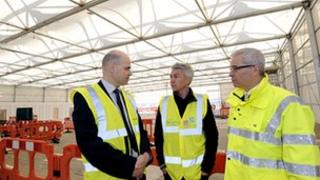 Heathrow has unveiled a new temporary terminal to cater for athletes and officials involved with London 2012.
The terminal has been built solely for "Games Family" departures, and will be used for the three days after the closing ceremony on 12 August.
More than 10,000 athletes and 37,000 bags will be diverted away from the other terminals during the period.
Some 80% of Olympic visitors are due at the airport, with 13 August expected to be Heathrow's busiest day ever.
Jonathan Edwards CBE, former Triple Jumper and Olympic, Commonwealth, European and World Champion, said the Olympics was the pinnacle of an athlete's career, adding: "We don't want anything to hinder their performance so it's crucial we get their whole experience, from arrival to departure, right."
Construction of the terminal - which is roughly the size of three Olympic swimming pools - began in February in an area currently used for staff car parking on the south side of the airport.
The unveiling is a contruction milestone, meaning the building is now weather-proof.
No flights will leave from the terminal, so athletes will be bussed to departure lounges.
With 31 check-in desks and and seven security lanes, athletes will take just 30 minutes to pass through the facility, according to BAA director for London 2012 Andy Garner.
Many will also be able to check in their luggage at the Olympic Village, ahead of arriving at the airport.
Heathrow says 27 June to 1 October will be its critical period - allowing time either side of the start of the Olympics and the end of the later Paralympic Games.
On its busiest expected days - 26 July and 13 August - it predicted passenger levels would increase from an estimated 95,000 on a usual day by 45% to 138,000.
Mr Edwards added that once the Games are over, the Olympians should leave London trouble-free.
"When the athletes have done their hop, skip and jump, they can be forgotten," he said.
"But that's not going to happen here. We've made sure athletes can leave smoothly while keeping Heathrow running."
Heathrow is expecting a 35% increase in baggage on 26 July and 13 August, with around 15% of the 200,000 items expected on those days likely to be oversized luggage such as sporting equipment.
To ease pressure on Heathrow, charter flights and private jets will use other airports such as Stansted.
Airport owner BAA said it was spending more than £20m on the Games, none of which was public funds.
In addition to the temporary terminal, the money will be spent on building lifts to handle Paralympians' wheelchairs, providing extra media facilities, and recruiting and training 1,000 volunteers to meet and greet passengers arriving for the Games.
Heathrow said it did not believe the Games presented a higher security risk but it was recruiting 250 security staff "in part to give us more resilience during this summer".
It said UKBA would be able to use dedicated immigration lanes for the arrival of accredited Games Family members, athletes, coaches, officials, accredited media and other individuals.
The agency is building a "pool of volunteers to work at Heathrow to ensure an efficient border control process during the peak arrivals period".
Heathrow is set to test its procedures in the coming weeks and the airport has 50 full-time staff working on its Olympic programme.
It said that number was likely to increase significantly as the Games approached.