London 2012: Olympic food to be checked by elite squad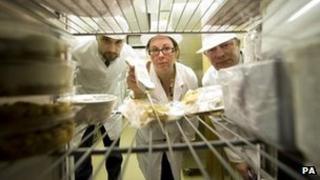 Ten top food safety inspectors based in Olympic venue cities are to ensure British food is safe for the Olympics.
The elite food safety squad has been picked by the Food Standards Agency (FSA) to ensure all food sold, cooked and eaten during London 2012 is safe.
The team will carry out extra inspections on food businesses around Olympic venues and training camps in the run-up to and during the Games.
It will help raise awareness of food hygiene for businesses and consumers.
As part of the FSA's Play It Safe campaign, aiming to raise awareness of food safety, the team will carry out increased hygiene inspections of food outlets to ensure that all food sold, cooked and eaten during the Games is safe.
Food businesses that do not make the grade on inspections will be given one-to-one training to ensure they are aware of, and follow, food hygiene regulations.
Where public health is deemed to be at risk, the FSA said "tough enforcement action" would follow.
"We have so much fantastic food to showcase to Games visitors, and we want food business owners to ensure that everything they sell is the best it can be," said Sarah Appleby, head of enforcement and local authority delivery at the FSA.
"It will be an exceptionally busy time for a lot of these businesses, and the FSA is providing extra support and advice to make sure they are well prepared to meet the challenge."
The FSA has introduced a number of measures to minimise the risk of food safety incidents ahead of the Games, including:
A food safety coaching programme for small businesses in Olympic areas in need of improvement
Funding and training initiatives for local authorities in Olympic areas
Providing extra equipment for sampling and checks on cleaning for enforcement officers working on the ground in Olympic areas
Further information can be found on the FSA Olympics website as well as from a dedicated Twitter account to be launched shortly: @playitsafefood.