Clipper race: US Coast Guard rescues Britons injured on yacht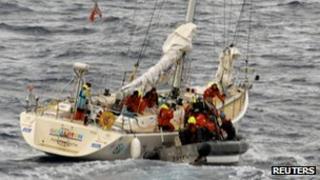 Two of the four injured sailors on the yacht Geraldton Western Australia have been rescued by the US Coast Guard.
The crew members were hurt when a huge wave crashed into their boat during the Clipper Round the World Yacht Race.
The four - three Britons and an Australian - suffered a range of injuries during a storm in the Pacific Ocean, 400 miles off California.
The other two injured crew are likely to remain on the boat until it docks in San Francisco Bay in the next two days.
The crew were taking part in the biennial Clipper Round The World Yacht Race when the wave hit the boat in a storm on Saturday, sweeping away its steering wheel, mount and some of its communications equipment.
The Coast Guard said it had successfully taken off onboard doctor Jane Hitchens, 50, from Kent, who has suspected broken ribs and is being treated with oxygen.
Nik Brbora, 29, from London - who has a suspected pelvic strain - was also transferred from the yacht to a US Coast Guard cutter.
It is understood the Coast Guard ship will then set sail for port and the pair will be taken to hospital.
Initially the Coast Guard had planned to airlift the injured crew to the cutter by helicopter, but it was decided the yacht's mast and rigging were too much of a hazard and they were transferred by boat instead.
Race director Jonathan Bailey told BBC Breakfast that Nik Brbora and Dr Hitchens were "stable" when they were transferred from the yacht and he expected them to reach land around 08:30 local time (16:30 BST).
"They'll go to hospital first to be checked out. Jane is the one we're probably most concerned about although I don't believe it's life-threatening. But she is struggling to breathe a little bit and is requiring oxygen," he said.
He said the crew still on the boat were in very good shape and were "racing towards the finish line".
Captain John Prince of the US Coast Guard praised those involved in the rescue operation: "Everyone demonstrated expert seamanship and airmanship to ensure the injured sailors were safely delivered to proper medical care."
Medical supplies
Earlier, a C-130 Hercules transport aircraft dropped additional medical supplies to the yacht, including oxygen.
Mark Burkes, 47, from Worcestershire, who was on the helm at the time of the incident, sustained a back injury, but has been taken off the casualty list.
And Max Wilson, 62, from Queensland, Australia, who also has suspected broken ribs, has been able to move around.
The rest of the 16-strong crew on the boat are said to be uninjured but shaken.
The 40,000-mile (64,500km) race, which features predominantly amateur crews, started in Southampton in July last year and is due to return to the city after a year.