Drought fears for Midlands and south-west England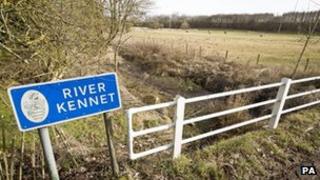 The Midlands and south-west England are at risk of slipping into drought status, the Environment Agency warns.
The government agency expects drought to spread west across the country following the recent dry weather.
It comes amid reports that rivers are at their lowest levels since 1976, with a severe lack of rainfall not seen since the drought of 1921.
From Thursday, hosepipe bans are due to come into force in parts of south-east England and East Anglia.
Those areas are already officially in drought, while that status was declared in South and East Yorkshire earlier this week.
Two years of lower-than-average winter rainfall has meant rivers across the country have not been replenished.
The past week's hot weather saw 1mm or less fall across the whole country, the Environment Agency said in its latestDrought Management Briefingon Friday.
"Without substantial rainfall, the risk of drought could spread to parts of the West Midlands and south-west England," a spokesman said.
Streams 'drying'
"It's important that we all use water wisely and use less of it. The amount we use at home and in our businesses has a direct affect on the amount of water available in rivers and for wildlife."
East Anglia saw two-thirds of the normal rainfall for March, with most falling in the first week. Wales had just 27% of its average monthly rainfall.
Most areas received less than half the long-term projections for average rain.
Two-thirds of rivers are at an "exceptionally" low level, while all rivers are experiencing below-normal flows.
The agency said small streams and ponds were drying up in Yorkshire, Oxfordshire and Herefordshire, affecting wildlife and fish.
Farmers in East Anglia are unlikely to be allowed to draw water from the ground or rivers to irrigate crops. Some are reporting crop reductions of between 20-50%, in vegetables like onions and carrots.
Extra capacity is being found in other areas of the country.
Environment Agency water resources head Trevor Bishop told BBC Radio 4's Today programme the situation was becoming more serious.
"If we see a continuation of dry weather, which is now very likely, these conditions will probably extend further westward over the next couple of months.
Infrastructure investment
"Our rivers are really important, but also the water is needed for our businesses, people, the economy and for farmers. It's all very reliant on the winter rainfalls, to replenish the natural resources.
"For two years in a row, that simply hasn't happened at sufficient levels."
In recent months, the agency has had to move fish from where river levels are lowest.
Despite the drought, Mr Bishop said water companies were investing in reservoirs, desalination plants and schemes to move water around the country.
Water companies in England and Wales leaked more than 3.3bn litres a day in 2010/11, according to the regulator Ofwat.
Demand for water stands at around 17bn litres a day, according to industry body Water UK.