EDL takes part in far-right European rally in Denmark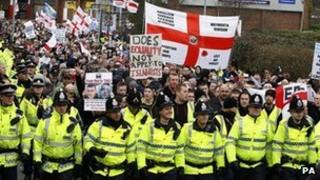 Far-right groups from across Europe are holding a rally in Denmark aimed at setting up what they term an anti-Islamic alliance across the continent.
The demonstration has been organised by various groups who are concerned about the "Islamification of Europe".
The English Defence League (EDL), which is taking part, said it hoped it would be the start of a Europe-wide movement.
Campaigners against racism are worried that hardline Islamaphobic groups in Europe are now joining forces.
Extremist group
The number of people attending the rally in Denmark is likely to be small.
But analysts say what is more important is that many are the leaders of anti-islamic groups from a variety of European countries.
Some have been in the Danish city of Aarhus since Wednesday where they have had a chance to hold meetings and discuss ideas.
One of the organisers of the rally is the EDL which wants to stop Muslim migration into Europe all together, viewing it as a threat which will lead to conflict.
The group hopes Saturday's rally will create a pan-European movement which will hold demonstrations in different countries at the same time.
EDL leader Stephen Lennon said a few hundred people would attend.
"We're not expecting big numbers in Aarhus," he said. "We hope it will be the start of a European movement that will continue to grow."
Increase tensions
BBC World Affairs correspondent Richard Galpin said it was not clear if the EDL would succeed with the aims of the rally.
But anti-racism campaigners already fear the hardline anti-Islamic rhetoric being used will increase tensions in European cities and encourage extremists on both sides.
Nottingham University's Matthew Goodwin, an expert on far-right groups in Britain, said the meeting would be strategically significant even if the numbers were not.
"What we are seeing here for the first time in British political history is an anti-Muslim far-right organisation taking the lead in trying to mobilise pan-European opposition to Islam," he said.
Police in Aarhus said the rally would be kept apart from an expected counter-demonstration by anti-racism campaigners.
Police Superintendent Mogens Brondum said: "The police can and will handle this situation. We will be out massively."