Dental X-rays for asylum children criticised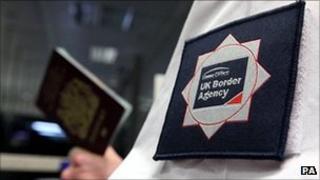 The UK's children's commissioners have condemned plans to use dental X-rays to assess the age of young asylum seekers.
It is believed the X-rays could help to establish whether those who claimed to be minors were really adults.
The commissioners, who cover the different parts of the UK, say they are appalled at plans to start a pilot scheme in Croydon, south London.
The UK Border Agency has stressed that the scheme will be voluntary.
In a joint statement the commissioners say: "We believe that this practice places the child at risk because they may be unable to give informed consent and will be at increased, unnecessary exposure to medical radiation.
"We believe that this is a clear breach of the rights of vulnerable children and young people and may, in fact, be illegal. We will be challenging the Border Agency and the government to end this pilot immediately."
A UK Border Agency spokesperson said: "We are trialling ways to improve the age assessment process so that both adults and children receive age-appropriate services.
"The trial will only be open to those who have already been assessed as adults and will establish whether dental X-rays are a useful tool. Participation in this trial is voluntary and refusal to take part will not count against anyone."
In February, 40 children held in adult detention centres while seeking asylum were understood to have received a share of £1m compensation from the Home Office for being "wrongfully detained".
Previously, immigration officers could refuse to accept a person's claim to be under 18 if they suspected otherwise, and deal with them as an adult.
The government has since accepted its policy was unlawful, and changed it.