London 2012: British Airways Olympics dove plane unveiled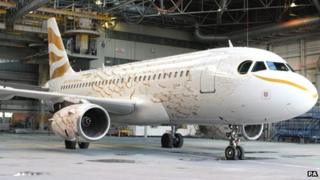 Is it a bird? Is it a plane? Well, actually, it's a plane painted to look like a bird.
British Airways has repainted the first of nine A319s with a dove design to mark the London 2012 Olympics.
The artwork by Brighton-based designer Pascal Anson will be seen for the first time on BA's 1420 Heathrow to Copenhagen flight on Tuesday.
The design is the result of a contest, run by the company with the aim of promoting British talent in the run up to the Olympic and Paralympic Games.
Turner prize-nominated artist Tracey Emin was on the judging panel which picked Mr Anson's design from hundreds of entries last July, and she has mentored the Kingston University design tutor throughout the project.
Inspired by planes he saw flying in and out of Gatwick during his commute, Anson said that as a three-dimensional designer, he wanted to turn something ordinary into something extraordinary, while playing with people's perceptions of flying objects.
"I wanted to do something that would make people stop and think differently about what they were looking at," he told the BBC.
"I've often looked up at aircraft landing and wondered if it's a bird or a plane, and the idea developed from there."
Scale of a dove
He chose the dove because as well as being a symbol of peace and social unity, it was used in ancient Olympics as a messenger to send Games reports to outlying villages, and the bird also played a role in Olympics ceremonies such as that at the last London Games in 1948.
Although Anson wanted to avoid creating a photographic representation of a bird, he did want the design to be dove-like, which meant BA for the first time has painted the whole of the plane's livery, rather than just its tail-fin.
This created both design and artistic challenges, in terms of scale - as an A319 is 500 times larger than a dove - and surface, in terms of trying to get the soft lines of the dove's feathers onto the hard metallic surface of the plane.
He wanted to use a metallic colour but metallic paints are not allowed on aircraft as they interfere with radar signal so a new mica resin was mixed to give the bright gold finish - a colour which the team have dubbed "dove gold".
BA's operations manager for external appearance, David Barnes, said the job was the most complex his team had undertaken - both because of the intricacy of the design, and the fact that it encompassed the whole plane.
Emin praised the completed work at the plane's unveiling on Tuesday, saying she liked the way it "brings back back the excitement of travel".
"I will constantly be looking up every time I hear a plane fly over," she said. "You never know, maybe I will turn into a plane-spotter."
Massive stencils
But how do you paint a plane?
Even though the A319 is one of the smaller aircraft in BA's fleet - a 747 would need nearly 2,000 litres of paint - it was not a straightforward task.
It took a 10-strong team working around the clock, 950 man hours to paint the plane - which is 33.8m (111 feet) long and has a 34m wingspan - in a massive hangar in Heathrow, said Mr Barnes.
White-overalled technicians with goggles, masks and harnesses used hydraulic jetties to move around the craft and apply 500 litres of paint with spray-guns.
Unlike other airlines which use sticky vinyl to adorn their livery, BA creates massive stencils and then applies paint - which creates a longer-lasting finish to the design.
Having stripped the plane's paint back to the metal, a primer is applied, followed by a grey base paint on which a layer of fine rubber beads is sprayed to give a sparkly appearance before the top coat of paint is applied.
In terms of design, the artist works on a model which is then scaled up by 50 times and split into sections, rather like a jigsaw, so that stencil outlines can be created and pasted onto the aircraft.
While Mr Barnes said it had been hard work creating the new colour, which has to comply with Civil Aviation Authority regulations, he said it made a change for his team to work with something other than red, white and blue.
"This is the first time we've painted the whole craft and I'm really excited by it," said Mr Barnes. "When people see it they're going to want to fly in it."
But the new design won't be totally unfamiliar, as the airline is retaining the Chatham Dockyard Union flag - named after the dockyard where all Royal navy flags used to be made - on its tail.
BA had incurred the wrath of Margaret Thatcher in 1997 when it redesigned the tailfins without the historic flag. The former prime minister threw a handkerchief over a model 747 showing off the new livery and scoffed: "We fly the British flag, not these awful things."
Anson hopes the response to his latest design will be more positive. He told the BBC he was looking forward to seeing the final design when the last bit of masking tape was removed, and was proud to spray-paint his signature on the side of the plane.
Asked what he wanted to do next, he said a book and TV series were in the pipeline, and joked that maybe having worked on something so big he would scale his art down - and perhaps design artwork on the head of pin.