Fuel driver hours rules relaxed by government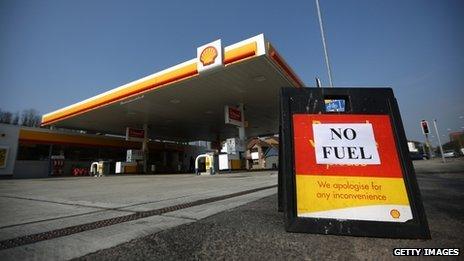 The rules on fuel tanker drivers' hours have been temporarily relaxed to help the transport of supplies to filling stations.
Under EU rules, drivers are limited to nine hours on the road each day, but this has now been raised to 11 hours.
The new rules will apply until Thursday and have been introduced after requests from the fuel supply industry.
The news came as the Unite union ruled out a strike over Easter by fuel tanker drivers.
Prime Minister David Cameron said the whole country would welcome Unite's announcement.
The union is to join conciliation talks but said a strike could be called for after Easter if those broke down.
Unite's drivers, who deliver fuel to Shell and Esso garages and supermarkets such as Tesco and Sainsbury's, have called for minimum working conditions covering pay, hours, holiday and redundancy.
It says the strike ballot is about safety standards and terms and conditions, not about pay, and also says shorter delivery deadlines have created a "turn and burn" culture.
Kevin Clinton, of the Royal Society for the Prevention of Accidents, said fuel drivers and their employers should "monitor the situation very closely" following the government's relaxation of tanker driver hours "and not just use the extra hours without careful consideration".
He added: "When the panic for fuel subsides then the risks associated with driving for longer will diminish. Until then, this is probably the better of two evils."
Demand for petrol rose 172% on Thursday, and diesel by 77%, according to independent retailers' group RMI Petrol.
The government is no longer urging drivers to top up their petrol tanks following Unite's announcement.
Mr Cameron chaired a meeting of Cobra, the government's civil contingencies committee, on Friday afternoon.
Speaking afterwards, he said it was "vitally important the trade union in question enters these talks on Monday constructively".
He added: "The most constructive thing they could do would be to call off the strike entirely.
"That would ease pressure in the system still further. The government will continue with its contingency plans.
"I can tell people the fuel companies are working flat out to resupply petrol stations."
Some 90% of UK forecourts are supplied by the Unite union's 2,000 or so members at the centre of the dispute.
Following the Unite announcement, conciliation service Acas said it would be meeting the employers involved in the dispute on Monday and that it hoped formal talks also involving the union could start as soon as possible after that.
On Thursday Energy Secretary Ed Davey advised that people "just need to do the sensible thing... get a full tank of petrol, not a half-tank".
RMI Petrol chairman Brian Madderson accused ministers of "making a crisis out of a serious concern" and said they should have sought industry advice "weeks ago" on how to avoid fuel shortages.
But Conservative Party co-chairman Baroness Warsi defended the government over its advice in the face of a possible strike.
"I don't want a government that's sat on its hands, waits for the crisis to approach us and then looks like it's caught in the headlights," she said.
In York, Diane Hill, a woman in her 40s, suffered 40% burns on Thursday when petrol ignited as she was decanting it in her kitchen. She was transferring petrol between containers in her kitchen because her daughter had run out of fuel.
The cooker was on and the petrol fumes ignited. She has been treated for her injuries at Pinderfields Hospital in Wakefield.
Mr Cameron said it was "absolutely a desperate incident and a terrible thing that has happened to this woman."
He added: "My heart goes out to her and her family."
On Wednesday, controversy flared over cabinet minister Francis Maude's suggestion that people could store petrol in jerrycans at home - advice later withdrawn as a mistake.
Labour leader Ed Miliband has called on the prime minister to apologise for "presiding over a shambles on petrol" and accused the government of diverting attention from criticism of the Budget.
But the Conservatives hit back at Labour for failing to condemn the stance of Unite - the party's biggest donor.
Related Internet Links
The BBC is not responsible for the content of external sites.