Fuel queues: Your views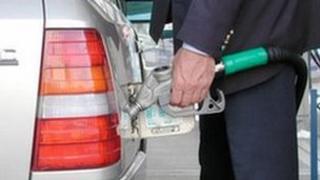 There has been a second day of long queues at petrol stations as the government advises motorists to
It follows a ballot supporting industrial action by tanker drivers belonging to the union, Unite, over their working conditions and pay.
BBC News website readers have been sending in their experiences.
James Farrow, Dorset
We own a traditional, family-owned garage where we serve our customers and it has been manic.
We don't open until 08:00, but people were knocking on our door at 06:00.
Our forecourt has been full and we've been directing traffic so cars don't block the road.
We've just had a tanker delivery and we need it. We're turning over 200% more than usual.
It takes two days for a tanker delivery to arrive so we're hoping supplies will last until the next one.
The surrounding garages have all run out, so we'll have to eke out what we have as we seem to be the only local garage with any fuel.
Julie Mckay, Liverpool
People are definitely panic-buying here. I was almost running on empty and last night I couldn't get any petrol within a seven-mile radius without joining queues that were causing chaos on the roads.
Cars were queuing on the road to get into the petrol station, causing a problem for other road users.
I wouldn't have gone for fuel if I'd had enough to get me to work and back today.
The government has sown the seeds of panic and people are reacting. There is no strike and there may not be for another two weeks - it's ridiculous.
I got up extra early to get to the petrol station at 07:00 and still had to queue - madness.
Fuel terminal worker, Plymouth
I'm a petroleum inspector at a fuel terminal in Plymouth that supplies 75% of stations with petrol in the South West of England.
There are no tankers parked on the terminal as all of the drivers are out working twice as hard replenishing petrol stations that are now being emptied twice as fast.
I don't work for one of the haulage companies but I know that every driver here is angry at how their conditions have been eroded by their employers and how they believe their safety is being put at risk.
The government is causing people to panic-buy and trying to politicise the dispute.
The statements they are making are what I would expect to see if a fuel shortage were imminent - which it isn't.
This is not a dispute about pay and it is not politically motivated. The drivers have problems with their employers and the union is helping them. There is no wider motive.
Ian Mackenzie, Essex
What a load of something about nothing. Currently no strike, so what is the problem?
I will fill my can with petrol so that I can cut my grass when I need fuel. I will fill my car when I need petrol and only when I need it.
I hear no dates for a strike, but one thing I do detest is yet again a union trying to disrupt our lives for what - does anybody know?
I have a couple of commercial vehicles - this pending petrol strike doesn't bother me.
I think it's a lot of hot air about nothing. You see the odd bit of queuing here but it's not that bad. I live in a small village and no-one here seems that bothered.
Jennie Langridge, Bournemouth
I'm really angry. I've just been to the petrol station as our tank is almost empty to find queues and messages saying they have run out of petrol and are waiting for fuel supplies.
There's no date for a strike, so why is everyone doing this? Because some idiot said to fill up jerrycans.
My partner is a delivery driver and I make and deliver cakes. I have cake deliveries and only about 30 miles left in the tank, which isn't enough.
All these narrow-minded drivers who are panic-buying have no sense at all. Does no-one understand that there are at least seven days until there may be a strike?
Michael Hughes, Swindon
In Swindon I was trapped in a Sainsbury's store car park for over 45 minutes trying to leave the complex after doing some shopping with my wife.
Panic-buyers blocked the single road exit from the supermarket.
Ultimately Sainsbury's devised a one-way system for cars trying to get fuel.
The government should realise that with authority and power comes great responsibility. For whatever reason they have not acted with any leadership in this matter at all.
It was complete chaos. It made me really angry.
Paul McRoberts, Blackpool
I had to bypass my local Tesco in Blackpool last night as I couldn't get into the car park for cars queuing to fill up.
As I work in sales, I travel in my car a lot - around 750 to 1,000 miles per week. Over the next few days I'm driving from Blackpool, to Cornwall, then to London and back home.
Simply "topping up" on fuel is unrealistic. It would mean sitting for 30 minutes daily just to get fuel for my work.
I've already seen ridiculous occurrences of cars putting £50 to £60 worth of fuel in their tanks when it's obvious these vehicles travel no more than 20 miles per day.
It seems demand for unleaded, which is mainly used for private cars, is highest.
Francis Maude should be ashamed of his comments and be more vocal with his apology - the union needs to understand that many of us haven't had salary increases for three years.
So £45k a year isn't bad in the current climate.
Vikki L Davies, Lancashire
I thankfully managed to fill my car up this morning as it was running on empty, rather than panic-buying as many of the others seemed to be.
People were queuing for an hour just to put £10 of fuel in.
I felt I had to queue as I popped out last night to fill my tank, thinking nothing of it, and found every petrol station within about 10 miles dry.
The situation is ridiculous - there is no guarantee that the proposed strike will even happen, not to mention the fact that the public will be given a minimum of seven days' notice.
The advice from the government has been the catalyst for this panic-buying. In their attempt to downplay the situation, they have inflamed it to stupid proportions.