London 2012: Ebay removes Olympic ticket listing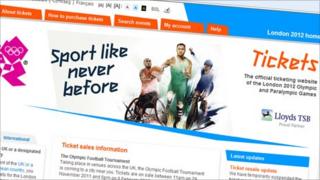 Online auction site eBay has pledged to continue to monitor its listings to prevent people selling London 2012 tickets.
The comments came after a newspaper found a listing on the site from one person hoping to sell tickets.
It is illegal to resell Olympic tickets on the open market without permission.
Ebay said it would not allow the resale of Olympic tickets and would remove any listings where people tried to do so.
Metro reported on Wednesday that it found a listing on the site offering tickets for events including archery, shooting and table tennis.
The user wanted £3,783 for 26 tickets with a face value of £1,140, Metro said.
"We have a range of measures and processes in place to ensure we can identify and remove listings," an eBay spokeswoman said.
And while she could not reveal how many listings had been posted and removed, the was "small".
Ticket distribution
In the first round of Olympic ticket sales last year, 1.9 million people applied for 6.6 million tickets.
Successful applicants have had email confirmation that they have purchased their tickets, but will not receive hard copies from organisers Locog until the summer.
A further round of tickets will go on sale in April, with priority given to people applied but missed out in the earlier ballots.
Locog has previously said people can give their tickets to family or friends but if touts bought them, the person whose name was on the ticket would be held responsible.
"The person who buys those tickets retains the responsibility of making sure they do not find themselves - those tickets - as part of illegal activity," CEO Paul Deighton said last year .
In order to combat problems during the Olympics a special Metropolitan Police Service team was set up to prevent and investigate serious and organised crime.
"Operation Podium" officers have arrested 124 people between June 2010 and the end of February this year.
Ticket touting offences accounted for 32 of those arrests, which includes selling tickets for other events including football and music concerts.
Last year the police sent letters to people who might try to illegally sell tickets, warning them they were being watched.
At the same time, Home Secretary Theresa May raised the maximum penalty for those caught ticket touting at London 2012 from £5,000 to £20,000.