Fuel strike threat: Maude's jerrycan advice 'a mistake'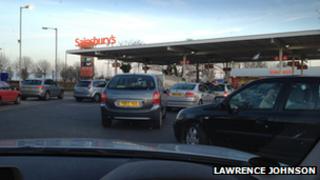 The government made a mistake in advising people to store petrol in jerrycans at home to prepare for a possible strike by fuel tanker drivers, a transport minister has said.
Mike Penning said Cabinet Minister Francis Maude had misunderstood the size of a jerrycan, which is 20 litres.
The government says drivers should top up tanks with fuel, but "not panic".
Labour has accused ministers of "stoking up" the threat of a drivers' strike over working conditions and pay.
The party said ministers were making the situation worse, while petrol retailers said the government was intent on "creating a crisis out of a serious concern".
According to the Retail Motor Industry Federation, petrol sales rose by 45% on Tuesday and diesel was up 20% amid talk of a strike bringing disruption to forecourt supplies.
Unite, the UK's biggest trade union, has called for minimum standards covering pay, hours, holiday and redundancy for fuel tanker drivers.
It represents about 2,000 drivers who deliver fuel to Shell and Esso garages, as well as supermarkets such as Tesco and Sainsbury's.
The union's drivers, who supply 90% of UK forecourts, have voted to strike, although no dates have been set.
Conciliation service Acas is attempting to convene talks between Unite and seven companies involved in the dispute.
An Acas spokesman said: "We are in urgent discussions with the parties involved on an individual basis. It is normal for us to do this to establish the format for talks."
On Wednesday, Mr Maude's advice for drivers to store petrol - "maybe a little bit in the garage as well in a jerrycan" - was criticised by the Fire Brigades Union (FBU) and the AA, who said it was potentially dangerous.
Labour accused the minister of "panicking people all around the country", which it said was "incredibly irresponsible".
A jerrycan has the capacity to hold 20 litres - more than the official limit for the amount that can be safely stored at home.
Mr Penning, the roads minister, later told BBC Two's Newsnight: "You can't store that amount of petrol. It was a mistake by the cabinet minister. He didn't understand the size of a jerrycan. He has apologised since."
However, he insisted that Mr Maude had been right to advise drivers to keep their petrol tanks full as the seven days' notice the union is required to give before going on strike would leave little time to prepare.
"Seven days isn't enough to actually make sure we have the facilities and the amount of fuel we need to go forward. If they go on strike the country will have a problem. Let's be prepared for that in case it happens," said Mr Penning.
He added: "Let's not panic, let's not queue, but be prepared."
Also speaking to Newsnight, shadow treasury minister Chris Leslie accused the government of "stoking up" the problems through ministers "misspeaking", and singled out Mr Maude.
Mr Leslie said: "Apparently he's now said [the jerrycan advice] was a mistake. I haven't heard him say that. I'm not sure whether the public have as well."
After a meeting of the civil contingencies committee Cobra on Wednesday, a Downing Street spokesman said there was no need to queue for petrol.
"In the normal course of business, motorists should consider keeping their tanks topped up. But there is no shortage of fuel at present and forecourts are being replenished," he said.
He reiterated Prime Minister David Cameron's earlier message that any strike would be "unjustified" and said talks needed to continue to avert industrial action.
Shadow Cabinet Office minister Jon Trickett said the government needed to "get a grip" and "insist on negotiations" to avoid a strike.
"It's a complicated dispute - there are seven separate issues being debated - but they're not going to be resolved if people just get megaphone diplomacy or if the government just stands back."
He added: "Certainly, we don't want a strike and Unite have said themselves they don't want a strike, they want to get negotiations, so I think Acas need to move fast."
Amid reports of increased demand for fuel at some petrol stations, Esso said that "some sites may temporarily be out of one or two types of fuel".
Shell reported "business as normal" and Tesco said it was experiencing "an increase in sales in some areas" but reassured customers it was working hard to meet that demand.
Asda said it was "working flat out behind the scenes to keep petrol in stock. We apologise to customers if they find some pumps are running low", but added "there's no need for customers to change their petrol-buying routine".