The view from one petrol station forecourt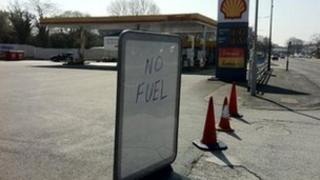 As ministers say motorists should continue to take "sensible precautions" to prepare for the impact of a possible strike by fuel tanker drivers, the BBC's Steve Blears visited one forecourt on the Wirral.
Shell's seven-pump service station at Eastham, on the Wirral, ran out of unleaded petrol on Wednesday morning and diesel just before lunchtime.
On a busy dual carriageway, it is a larger petrol station than most - serving HGV traffic heading towards the M53.
A selection of battered and mismatched traffic cones have sealed off the entrance along with a handwritten sign saying "No fuel".
With little else to do, staff have been taking up the opportunity to tidy up.
They have been sweeping sand used to dry fuel spills into neat little piles. The only interruption, a solitary Volvo driver allowed to enter after mouthing "Auto Gas?" through the service station window.
Anecdotally, there has been a stronger than expected demand for fuel on the Wirral where pumps have also reportedly run dry at Ellesmere Port and Birkenhead.
'Selfish'
One reason could be their closeness to the Stanlow oil refinery on the Mersey estuary.
Seven miles from the refinery and just down the A41 at Bromborough service station, also on the Wirral, a much needed delivery of fuel arrived at 13:30 BST.
The station had been closed all morning. One attendant said: "They've been coming for miles to fill up here because we are close to Stanlow refinery.
"They think it means guaranteed fuel but it doesn't. It was terrible yesterday, people were arguing with each other about panic-buying and filling cans.
"One chap was telling the other he needed fuel to drive for work and called the other selfish."
As the petrol station opened, a queue of 12 cars immediately formed - with people spotting it and instinctively joining the end.
"I can't be caught out, I need to drive for my business," said a landscape gardener filling his 4x4.
"You'd think Cameron would be pleased," he added."More tax money for them."