London 2012: Black cab Olympic protest targets Stratford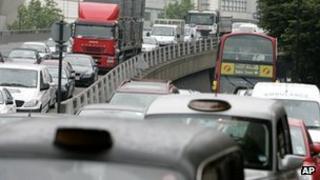 London taxi drivers have protested over the removal of taxi ranks and access to Games Lanes during the Olympics.
Organisers said the Stratford protest could have been avoided had Transport for London engaged with the RMT London taxi branch without pre-conditions.
But the London Taxi Drivers Association, which represents 9,500 London cabbies, said Locog had agreed to keep key ranks in Stratford open.
It praised concessions made by Olympics organisers over cab ranks and access.
The RMT said Wednesday's protest was against the removal of taxi ranks in east London, and lack of access to Games Lanes on the Olympic Route Network - which aims to provide safe, secure and reliable transportation on key roads linking venues for athletes, officials, media and sponsors.
John Mason, Director of London Taxi and Private Hire, said the protest was "deeply regretful" and "based on factually incorrect claims".
'No Disneyland'
The LTDA's Steve McNamara said Locog had made important concessions regarding access for taxis around the Olympic Park, but raised concerns about the impact of closing The Mall in central London for three months.
TfL says security and construction issues mean The Mall will be closed from the Queen's Diamond Jubilee celebrations in June until after the Paralympics, as a 16,000-capacity beach volleyball arena is built in Horse Guards Parade and the site is prepared for the marathon, cycling and walking events.
Transport Commissioner Peter Hendy said: "We have reluctantly concluded that it won't be possible to get traffic down The Mall whilst they are building and the (Games) are in operation as it is a secure zone."
One road north of The Mall - Marlborough Road - will remain open to drivers in June.
"London's a working city, not a theme park," Mr McNamara told the BBC. "It's not like Disneyland where you can close Mickey Mouse Avenue and open Pluto Drive."
A London 2012 spokesman said it would continue to meet taxi organisations to discuss travel plans - including proposals on drop-off and pick-up points - with them.
"We want to ensure taxis are able to get as close as possible to the venues [bearing in mind the local area traffic management issues and security provisions]," he said.
The Olympic Route Network (ORN) - covers 170 miles of UK roads, as well as 109 miles in the capital, a third of which will have Games Lanes.
Many road-users fear the result of the extra traffic restrictions across the ORN - including closed side roads, banned turns, suspended parking, diverted buses and changed traffic signals - will be increased congestion.
Games Lanes will operate on the busiest section of the network - around Heathrow and Wembley Stadium, through central London and out to the Olympic Park at Stratford.
An extrathree million journeys are expected in London on the busiest days of London 2012. While organisers say 70% of roads in Greater London will see no impact, critics say the impact on London's already-busy road system will be widespread traffic jams, which taxi drivers say will cause afour-fold increase in fares.
TfL - which manages transport services across the capital - said it was holding regular meetings with unions like the London Taxi Drivers' Association to discuss Olympics transport concerns.