MoD names servicemen killed by Afghan soldier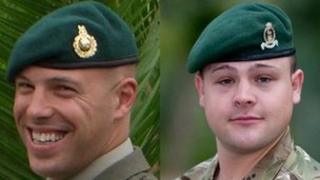 Two British servicemen shot dead by an Afghan army soldier have been named as Sgt Luke Taylor, of the Royal Marines, and L/Cpl Michael Foley.
Sgt Taylor, 33, from Bournemouth, leaves behind a wife and son. His commanding officer called him "fearless" and "a natural leader".
Burnley-born L/Cpl Foley, 25, of the Adjutant General's Corps, would be "sorely missed", his family said.
The two men were killed at British forces' HQ in Helmand on Monday.
They were shot dead at the main entrance to Lashkar Gah main operating base.
A total of 407 members of UK forces have died since operations in Afghanistan began in October 2001.
The announcement comes as Defence Secretary Philip Hammond visits Afghanistan and holds a meeting with the governor of Helmand province in his compound in Lashkar Gah.
'Selfless'
Mr Hammond said he was "very saddened to learn of the deaths of Sergeant Luke Taylor and Lance Corporal Michael Foley, brave and committed British servicemen who died in the most tragic of circumstances whilst on operations".
Sgt Taylor joined the Marines in 1997 and was described as a "selfless, dedicated and talented" Marine "who approached everything he did with passion, a keen sense of humour and the desire to excel".
He arrived in Afghanistan only four weeks before his death.
L/Cpl Foley leaves behind a wife, Sophie, and children Calum, Warren and Jake.
His family said: "Michael passed away while on operational duty in Afghanistan where he was very proud to be serving his country in support of our combined forces in this theatre of operations.
"He will be sorely missed by his family and friends and everyone privileged to serve with him both on his last tour and during his military career."
'Military footprint'
His commanding officer, Major B J Cattermole, said: "Lance Corporal Foley died protecting his comrades - his final gift of service to the Army and his country, and the ultimate sacrifice by a young commander who epitomised selfless service and dedication throughout his Army career.
"Since his arrival in the headquarters the year before deployment, Lance Corporal Foley's infectious enthusiasm, absolute dedication and boundless energy shone through."
Mr Hammond, speaking during his visit to Afghanistan, said: "We have a long-term commitment to the Afghan people. We will help to finance the Afghan national security forces for many years after 2014."
"We have not yet taken the decision about what if any military footprint we will retain after 2014. That will be a decision we will take later."