Forced marriage: Girl aged five among 400 minors helped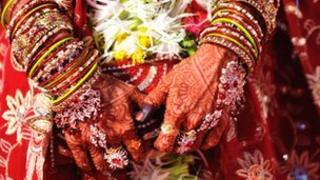 A five-year-old girl is thought to have become the UK's youngest victim of forced marriage.
She was one of 400 children to receive assistance from the government's Forced Marriage Unit in the last year.
The figures have emerged as the public consultation into criminalising forced marriage in England, Wales and Northern Ireland comes to an end.
Amy Cumming, joint head of the Forced Marriage Unit, said 29% of the cases it dealt with last year involved minors.
"The youngest of these was actually five years old, so there are children involved in the practice across the school age range," she said.
To protect the child, the authorities have not disclosed details of the case or where the marriage took place.
But the case comes as no surprise to the Iranian and Kurdish Women's Rights Organisation (IKWRO), which deals with more than 100 cases of forced marriage a year.
"We have had clients who are in their very early teens, 11-year-olds, 12-year-olds, the youngest case we had was nine years old," said IKWRO campaigns officer Fionnuala Murphy.
Now the consultation on forced marriage has come to an end, IKWROs hope it will become a criminal offence.
"Our organisation is pro-criminalisation because we believe that it will empower victims to know that this is a crime, to stand up to their parents and to stand up for their own rights and it will enable them to come forward and seek help and say what's happening to me is wrong."
Violent abuse
Author Sameem Ali is all too familiar with the trauma of being a child bride - she was only 13 years old when she was taken to Pakistan by her mother on a holiday.
As a teenager she was excited about the trip, but when she arrived at the family's ancestral village, she discovered she was to be married to a man twice her age, whom she had never met.
"The whole family turned up with an imam and they forced me into this marriage. I didn't really understand what was happening at the time.
"I was only a child. There was no way I could say no. There was no support there whatsoever."
Eight months later she returned to the UK after suffering months of violent abuse.
"I was brought back to this country when I was 14 years old and pregnant," she said.
She eventually fled the relationship and is now happily married with two children and helps other young people at risk.
However, Sameem is concerned that making forced marriage a criminal offence will deter victims from speaking out.
"I think it will be detrimental to the victim. The victims will stop coming forward, because nobody will want to point the finger at their parents," she explained.
"The young person will not come forward if it's a criminal offence. They will not stand up in court and testify against their parents."
Law change
In 2011 the Forced Marriage Unit helped deal with around 1,500 cases, but many more are thought to go unreported.
Forced Marriage Protection Orders were introduced in 2008 for England, Wales and Northern Ireland under the Forced Marriage (Civil Protection) Act 2007.
A potential victim, friend or police can apply for an order aimed at protecting an individual through the courts. Anyone found to have breached one can be jailed for up to two years for contempt of court, although this is classed as a civil offence.
The prime minister wants the law to go further and ordered a public consultation on making it a criminal offence in England, Wales and Northern Ireland to force a person to marry against their will.
In Scotland the breach of a forced marriage protection order is also a criminal offence in Scotland punishable by prisons.
Equalities Minister Lynne Featherstone said the government would now look at all the arguments.
"We will now consider all of those views and responses to the consultation before we make a decision on the best way to protect vulnerable people.
"We are determined, working closely with charities and other organisations doing a tremendous amount in this area, to make forced marriage a thing of the past."
A decision is expected to be announced later this year.
Hear more on this on the BBCAsian Network