Drought conditions spread in England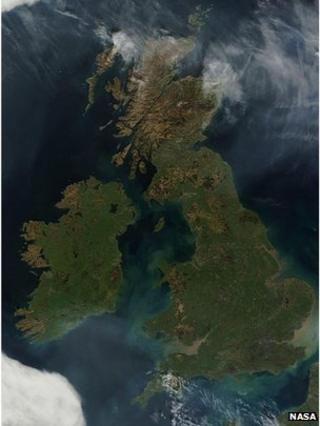 Drought has spread in England, with parts of East and South Yorkshire now officially affected.
The Environment Agency said public water supplies should not be affected, but lower river and groundwater levels meant businesses and farmers taking water from rivers should use it wisely.
The agency has already declared drought in areas of the South East and East Anglia.
Seven water companies in those areas are to impose hosepipe bans on 5 April.
Yorkshire Water said it did not anticipate any restrictions such as hosepipe bans for the time being.
In a statement, the company said it would constantly review the situation "as the dry weather continues".
"Our regional water supply system gives us flexibility, what it doesn't give us is an unlimited supply of water, so we would always encourage our customers to only use what they need, when they need it."
As the warm spell across the UK continued on Tuesday, firefighters were involved in tackling blazes in North Yorkshire, south Wales, Dumfries and Galloway and the Borders.
The grassland fires in Scotland, which had broken out on Monday afternoon, took until Tuesday evening to extinguish.
Owing to clear conditions and its elevated position across a front of 1km-2km, the Dumfries blaze was visible as far away as Workington in Cumbria.
A Royal Navy helicopter from HMS Gannet at Prestwick was used to move firefighters and equipment across the remote hillside.
On Hanging Moor, in Thruscross, it took more than 35 firefighters almost 12 hours to bring a blaze under control, after being called to the scene early on Tuesday afternoon.
In south Wales on Tuesday, a grass fire spread to a house, garage and electricity poles near Pontardawe in the Swansea Valley, while forestry in the Rhondda Fach was also hit by a spreading grass fire.
The Environment Agency has warned that above-average rainfall could be required in coming weeks if drought is not to spread more widely.
Two dry winters have led to concerns that wetlands, ponds and streams could dry out, damaging wildlife including amphibians, aquatic insects and wading birds.
The Environment Agency offers water-saving tips including:
Don't leave the tap running while brushing teeth, shaving or washing hands
Reuse bath water for house plants or in the garden
If letting the tap run until water gets hot, collect and use to water plants
Keep a jug of water in the fridge, to avoid running tap until water gets cold
Wash fruit and vegetables in a bowl rather than under running tap
Wash cars with a bucket. Or not at all - just keep headlights, mirrors and windows clean