Acas offers talks in bid to avert tanker driver strike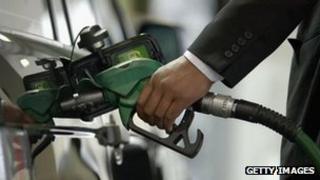 Conciliation service Acas has invited trade unions and oil firms to talks in an attempt to avert a strike by tanker drivers that could disrupt supplies.
Staff at five of seven firms in dispute over terms, conditions and safety standards have voted to walk out.
The government's civil contingencies committee Cobra, chaired by the prime minister, will meet later to discuss plans in the event of a strike.
Unite wants minimum standards covering pay, hours, holiday and redundancy.
The union represents about 2,000 drivers who deliver fuel to Shell and Esso garages, as well as supermarkets such as Tesco and Sainsbury's, covering 90% of the UK's forecourts.
It said on Tuesday that corners were being cut on safety and training "in a bid to squeeze profits and win contracts" and drivers faced growing job insecurity.
Energy Secretary Ed Davey has urged the union to participate in talks with the haulage firms.
But in a letter to the minister, Unite assistant general secretary Diana Holland said: "We have been tireless in seeking talks to avoid industrial action, but we have been frustrated at every turn."
One of the companies involved in the dispute, Hoyer, said its safety standards were among the best in the industry, as were pay and conditions for its drivers, who earn on average £45,000 a year.
Acas, which welcomed Mr Davey's suggestion for both parties to seek a "negotiated settlement", said it would be looking to see whether it could enable "the possibility of some form of dialogue to start".
"Of course, take-up of Acas conciliation is voluntary and the parties themselves will determine whether they wish to respond positively to our invitation," said a spokesman for the service.
The prospect of industrial action has raised the threat of fuel shortages over the Easter weekend.
Prime Minister David Cameron and his cabinet have been briefed on plans to put military personnel through an eight-day training course to enable them to take the place of striking drivers behind the wheel of commercial tankers.
And Cabinet Office Minister Francis Maude said the government had "learnt the lessons" of the previous disruption to petrol supplies in 2000, when pumps ran dry around the UK.
He said plans were being put in place to keep Britain moving, although he acknowledged that there was still "more work to be done".
Labour leader Ed Miliband has said a strike should be avoided "at all costs" and urged trade unions and company chiefs to negotiate.