HS1 passenger numbers lower than forecast, NAO says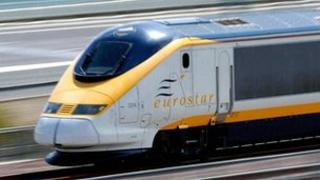 The number of international passengers using the HS1 Channel Tunnel high-speed rail line is only two-thirds of what was initially forecast, a report has found.
The National Audit Office (NAO) said the project went ahead based on "hugely optimistic assumptions" about passenger numbers, which were not realised.
It also said the £6.16bn cost of the London to Folkestone line had exceeded the savings from shorter journey times.
The Department for Transport (DfT) said it had improved its forecast modelling.
The NAO said passenger numbers from 2007 to 2011 were two-thirds of the level forecast when the DfT guaranteed the project's debt in 1988 to allow the line to be built.
The lower passenger numbers left taxpayers exposed to lower-than-expected income, which had been expected to repay the debt, it said.
Value for money
Auditor general Amyas Morse said: "The HS1 project has brought a number of significant benefits including quicker journey for passengers.
"However, the project went forward on the basis of hugely optimistic assumptions about international passenger numbers.
"These were not realised and the department is only now developing its plan to evaluate whether the project was value for money."
Labour MP Margaret Hodge, who chairs the Commons Public Accounts Committee, said she was not yet convinced the HS1 would prove to be value for money.
"We will want the department to do all it can to realise the benefits and turn this sorry story round," she said.
"It's a sad state of affairs when it comes as no surprise that HS1 was based on dodgy assumptions and bad planning."
'Well-managed' sale
The first section of the HS1 line was completed in 2003 and the full line opened in 2007 for 186mph Eurostar trains between London and Paris and Brussels.
It was originally run by London & Continental Railways (LCR) and was sold to a consortium for just under £2.05bn in 2010.
In its report, the NAO said the sale had been well-managed and had removed taxpayer's open-ended support for the line.
It also said the line had performed well with just 0.43% of services in 2010-11 being delayed by infrastructure incidences.
A DfT spokesperson said HS1 was delivered "on time and on budget".
"This report points to the significant benefits it has achieved, not just for passengers, but for the taxpayer, including when it was sold for more than £2bn, far exceeding market expectations."