England riots: Days of looting, arson and violence
A report has blamed "forgotten families" as one of the factors behind last August's English riots.
BBC News talks to some of those caught up in the looting, arson and violence, and asks them to reflect on their experiences and lessons learned, seven months on.
Youth worker: 'They are still angry'
Emeka Egbuonu, a youth worker in Hackney, remembers telling a friend to prepare for "all hell to break loose" after the death of Mark Duggan, an unarmed man who was shot by the police.
As soon as violence erupted Mr Egbuonu, 25, went straight out onto the streets.
"I went out to check on the kids. I picked up my phone and started walking towards Dalston, making calls to the young people who I work with.
"Along the way I saw kids I knew and told them not to head in that direction. The problem was lots of good kids were going to look - I warned them not to go. It was a risk because I could have been stopped too.
"And then there were those who wanted to join in the mayhem. I ended up having a discussion on the road with one boy I knew. He has lots of aggression towards the police.
"We had a long conversation. He said he didn't condone the burning, but he wanted to throw bricks at the police because of the way he was treated.
"Eventually I persuaded him, but unfortunately not everyone stopped. One guy I know is now in prison.
"I don't think the anger is gone now. Young people and the police still don't see eye to eye. I used to have those feelings towards the police too.
"There were a lot of kids who weren't caught - they still think they can away with it. They're still angry. The only thing that might stop them now is fear of getting caught.
"We still face social unrest because of consumerism and inequality. We have to instil a belief in young people that they can make something of themselves in the long term. Some don't have any hope."
Clean-up organiser: 'It was a very British response'
Dan Thompson started and helped to run a national clean-up campaign in the wake of the riots.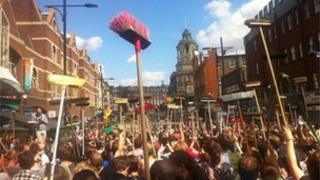 His tweet: "Get a broom and go to a local shop" helped kick-start a remarkable response from thousands of ordinary people who came out of their homes to help their neighbours clear rubble and broken glass.
The 37-year-old artist was last year voted one of GQ magazine's "100 Most Influential Men In Britain" for his hashtag #riotcleanup.
"I remember watching the riots from home and thinking how helpless it made me feel to watch homes and businesses being smashed up, and not be able to do anything.
"That's when I got the idea of encouraging people to help each other. So I sent the tweet, and it was retweeted up by some of my 4,500 followers.
"It grew from there really and as the night went on I found myself co-ordinating a national campaign. Someone would tweet they were available, and I would advise them what areas needed their help.
"By the next day, the Broom Army had turned into a national phenomenon.
"It was also a very British response to a problem. In the end we didn't solve the riots with riot police and water cannon - we used cups of tea and pieces of cake on the doorstep.
"As for the broom, it's become an iconic symbol of the riots - far more so than a burning building.
"In fact, the comic Omid Djalili even used a Broom Army routine in his Sports Relief routine this year."
Shop owner: 'Ordinary people helped me'
Shopkeeper Siva Kandiah owns and runs a small shop, Clarence Convenience Store, in Hackney, east London.
His was one of hundreds of commercial premises targeted by looting mobs last August.
His shop was gutted, but Mr Kandiah is now back in business - partly thanks to the help offered by his neighbours and local community.
"We knew there were going to be problems on Monday so we shut up early.
"I went home thinking nothing could happen to our shop - we had shut up early and we had electric shutters and security.
"At about 19:30 I was watching the riots on TV and I saw a mob outside my own shop.
"They tried to tear down the shutters, and at first the police kicked them out, but they came back with crowbars, and this time the police just stood and watched them.
"When I arrived the shop was completely smashed up and everything had been stolen. We were crying. It was the worst moment of my life.
"I tried to cancel my newspaper delivery, but it was too short notice and I ended up selling them in the street.
"That was when people saw the state I was in and offered to help. People came with brooms and started to sweep out the shop.
"Someone started up a local collection to help me, and money was donated from all over the country. It helped me get back on my feet.
"I have no idea why my shop was targeted - I am a good person and try and help people.
"I am angry at the police for not stopping the looters, and I am still waiting for my official riot compensation.
"In the end it was ordinary people who helped me. I am a Hindu and believe that if you help people in life, they will help you in their turn."
Fire Service Watch Manager: 'We still support the community'
Soon after the riots, fire crews from Merseyside Fire and Rescue Service were invited to 10 Downing Street and commended for their actions.
Watch Manager Paul Kay was in charge at Kensington Fire Station in Merseyside on the first night that violence broke out.
"We weren't worried at the beginning, but we could see things were coming further and further north, and we were mindful of the fact it was going to hit Liverpool. At about 10:30 it escalated.
"We were receiving calls from incidents ranging from secondary class fires - like wheely bins and car fires - upwards to rescuing two women from a roof. Some kind of petrol bomb had been thrown through a door or letterbox. And the Myrtle Street Tesco was fire-bombed.
"There was an air of tension, but we dealt with the fire and got the two girls down. The issue we had was that paramedics couldn't come into the area.
"I imagine people were shocked about how rioters were damaging property in their own town - just normal people with fruit and veg shops. For people to turn against their own was strange.
"The positive thing the fire service has taken from the riots is our drive for community prevention - which we put in place immediately.
"By 11:00 the next day we had launched a community reassurance campaign. Ten engines started going around supporting people and giving fire safety advice - not just domestically but at commercial properties.
"Post-riots, our fire service is still supporting the community. We're engaging with and reducing the anti-social behaviour we saw - whether through winter-warm campaigns or being involved at primary school level."