Prince Charles and Duchess of Cornwall visit Hamlet castle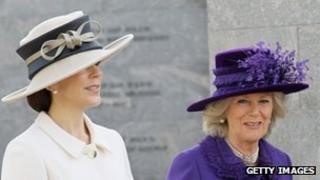 Prince Charles and the Duchess of Cornwall have visited the castle where Hamlet was set in Denmark.
The royal couple watched a workshop of the Shakespeare play by the Royal Shakespeare Company at Kronborg Castle, in Elsinore.
Earlier they met soldiers and relatives at Kastellet Citadel, the base of the Danish army in Copenhagen.
Prince Charles laid a wreath at the National Memorial, as the couple's tour of Scandinavia continued.
They also met Sofie Grabol, who plays Sarah Lund in the Danish drama series, The Killing, at the British Ambassador's residence in Denmark.
At Kronborg Castle, the RSC was joined by a group of Danish schoolchildren to perform for the royal party.
Rebecca Gould, from the RSC, said afterwards that the Duchess of Cornwall had put everyone at their ease.
"She was so genuinely interested in how we could move links forward between the RSC and these Danish young people."
The royal couple toured the old town of Elsinore, which is north of Copenhagen.
Earlier they were with Crown Prince Frederik and Crown Princess Mary of Denmark at Kastellet Citadel.
Prince Charles was joined by Crown Prince Frederik to lay a wreath and he was shown the national monument of remembrance and the eternal flame at the military base.
They were given a guard of honour salute by the King's Life Guards and the royal visitors spent time reading names on the memorial wall.
The Duchess of Cornwall spoke to the mother of a Danish soldier saying she understood the worry she must be feeling.
She said: "It's always the ones who are left behind, they're the ones constantly worrying."