London 2012: Olympic Route Network fines increase turned down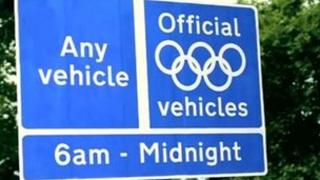 Moves to increase parking fines on the Olympic Route Network (ORN) to £200 during the Games have been turned down.
The Olympic Delivery Authority (ODA) had wanted to increase penalties and fees on the ORN and in two specially created parking zones in London.
But in a written statement the transport secretary Justine Greening said it would be an unnecessary burden in a challenging economic climate.
She said all penalties and fees must be set at normal levels.
The ODA had argued that the higher penalty fees were necessary, and essential to the Games' success, given the importance of ensuring traffic arrangements for the Olympics were effective.
The ORN - a section of UK roads (109 miles in London, 170 miles outside) linking key London 2012 venues where traffic regulations have been modified - is designed to ensure reliable journey times for those involved in making the Games happen.
Travel habits
The ODA, which is responsible for Olympic infrastructure, proposed that in most locations the normal level of penalties and fees should apply, and that in all places the normal discounts and surcharges for early and late payment should apply.
In London motorists can face a parking fine of up to £130 on the ORN, with a 50% discount for early payment.
However, the ODA had called for increased penalties of £200 on the ORN and in two of the Residents and Business Parking Protection Areas being established around the Olympic Park and in the Greenwich River Zone.
It also wanted a higher vehicle pound release fee of £300 in these two areas.
But Ms Greening said she was unwilling to approve the increases given that businesses and commuters were already being asked to consider making significant changes to their travel behaviour during the Games.
She said: "I am not persuaded that a higher level of penalties and fees is an essential addition to the strategy of communication and advice to residents, businesses and motorists about the measures and their enforcement that is already well under way."
An ODA spokesman said: "We accept that, in the current climate, the secretary of state has taken a different view for the reasons she has set out.
"We are confident that the vast majority of drivers will comply with the traffic regulations and we will be reviewing our approach and still expect to achieve a high level of compliance."