CRB checks mean 4,000 offenders rejected as teachers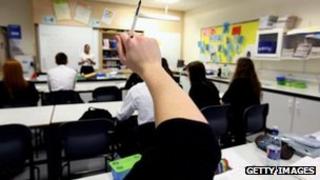 More than 4,000 offenders, including rapists, paedophiles and drug dealers, applied to become teachers last year only to be rejected after checks.
The information was released to the Press Association after a request to the Criminal Records Bureau.
CRB checks have prevented more than 130,000 unsuitable people from working with children or vulnerable groups.
The Association of School and College Leaders says the number of offenders who apply to teach is "very small".
It also said it is extremely encouraging that the system is picking up people with convictions.
Last year more than 263,000 people who applied to become teachers had Criminal Records Bureau checks.
This led to just over 1.5% of them being turned down on the grounds of their previous behaviour.
Those who were rejected had almost 9,500 previous offences between them, including 50 sex offences, 11 for arson and two for making threats to kill.
Separate figures also show that sex offenders and hundreds of violent criminals applied to work in nurseries last year.