Calories to be cut by major food and drink companies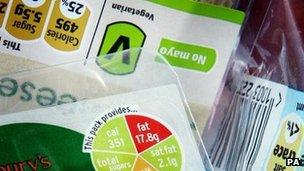 Food and drink companies have promised to cut calories in their products to help tackle obesity in the UK.
The 17 firms, which include Coca-Cola, Subway and Tesco, have signed up to the government scheme.
The Department of Health says England has one of Europe's highest obesity rates and that consuming too many calories is the root of the problem.
Among ideas to help consumers will be resealable packaging on many chocolate bars, including Cadbury's Dairy Milk.
Under the new scheme, every chocolate bar made by Mars will have a cap of 250 calories, while the UK arm of Coca Cola says it will introduce a 30% reduction in some of its soft drinks by 2014.
And some supermarkets, such as Asda, will develop a new low-calorie brand.
More than three-quarters of the retail market has signed up, Health Secretary Andrew Lansley said.
Marks & Spencer, Morrisons, Sainsbury's, Waitrose, Kerry Foods, Kraft, Mars, Nestle, PepsiCo, Premier Foods, Unilever, Beefeater (Whitbread) and contract caterer Compass have also signed up.
Mr Lansley said: "We all have a role to play - from individuals to public, private and non-governmental organisations - if we are going to cut five billion calories from our national diet.
"This pledge is just the start of what must be a bigger, broader commitment from the food industry. But it is a great step in the right direction and will help millions of us eat and drink fewer calories."
But Labour says the scheme is not the change needed in the nation's diet, favouring instead better food labelling and shielding children from adverts for junk food should be the starting point.
Terry Jones from the Food Manufacturers Federation said companies were committed to making changes.
"This is fundamental - and very costly, actually - reformulation activity to take calories out of products.
"So products that you and I buy today many of them... by 2013/2014 some businesses are talking of taking 30% of the calories out of some of those products."
However, food companies came in for criticism from the Children's Food Campaign.
Campaign spokesman Charlie Powell said: "The food industry wants to be part of the solution but altogether refuses to admit that it's a big part of the problem.
"And it's to the government's disgrace that the food industry is actually helping to set government health policy. I think we should look at what's happening on the alcohol network and actually the government have decided that the way to go is actually to mandate companies in terms of their pricing.
"While they grapple with voluntary approaches, we'll see these weasel word pledges continue."
Related Internet Links
The BBC is not responsible for the content of external sites.