Rape survivors open up about their experiences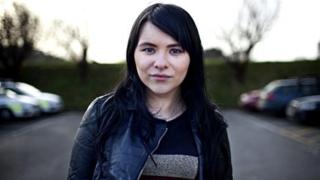 A woman is raped every ten minutes in the UK according to official figures, but thousands more go unreported and conviction rates are low.
Sarah Scott hasn't relaxed since the day she was raped in 2010.
"I just want to be the old Sarah, a fun and happy young girl," she admitted.
Sarah was raped after a girls' night out by an acquaintance, who persuaded her to go to his flat by saying her friends were already there.
He threatened to kill her and she was beaten and raped. "I tried so hard to get away, I just felt powerless," she explained.
"I screamed, I kicked him. But I wasn't strong enough."
Sarah managed to escape when he fell asleep, running into the street wearing only a bloody dressing gown. She was refused help by two men she ran up to. She collapsed in the street and was found by two police officers.
Her attacker was arrested and Sarah said his trial was important for her to face her fear. "I realised that he wasn't this terrifying person. He was pathetic."
But she said nothing could have prepared her for the aggressive nature of the cross examination about the rape by the defence lawyer.
"He accused me of liking it... it was horrific. I thought I was a victim, but at that point I felt like a criminal."
Sarah's attacker was found guilty and sentenced to eight years.
She now campaigns for rape victims and works with the police to help them improve how they deal with victims of rape.
Fear of demonisation in the courts and not being believed puts off many victims of rape from reporting their attacks. Shame, fear and embarrassment also stop victims speaking out.
A recentsurveyof Mumsnet members suggested rape is heavily under-reported, with 80% of respondents who had been victims of rape or sexual assault saying they did not report their attack.
Laura (not her real name) did not tell anyone when she was raped by her boyfriend, because she didn't think people would believe her.
Rape Crisis say one in five rapes are carried out by a boyfriend or husband.
Several years ago Laura's then boyfriend agreed to take things slow and wait till she was ready to have sex.
"But one night he decided he wanted what he wanted - I didn't really have any say in it," she said.
She said she had a sense of disbelief that it had happened. "I kind of put it away... but it's not something you can bury because it changes who you are."
Laura didn't think the police or a jury would believe her.
"People have such defined views, I was staying over at his house - they think 'if you were there then what did you expect'."
No closure or justice
While for many the fear of having to relive the experience in court puts them off reporting it altogether - most reported attacks never actually make it that far.
More than 15,000 people reported being raped last year, but there were only 1,058 convictions for rape.
The Crown Prosecution Service (CPS) drops more than half of rape cases and only one in four reported cases end up in court.
Natalie (not her real name) felt angry when her case was dropped the day before it was due to start. "They said the percentage chance to win was too low," she explained.
But Natalie wanted her day in court. "I felt even if I didn't win the case, I would have been able to talk out about what happened and to put my point across."
"I've had no closure or justice on the case."
Natalie had been gang-raped by people she thought were her friends.
Police say attacks by multiple perpetrators have increased by 20% in recent years in London alone. Often they are targeted by people they know and think are their friends, making it especially hard to investigate as people don't want to speak out against their friends.
Four years ago, when Natalie was 16, she made friends with a group of local boys.
"I felt very safe around them, they would always be there to protect me when I went out to parties," she said.
She started dating one of them, but one evening she spent in their company the atmosphere changed.
The leader of the group started making sexual comments towards her. It built up until he threatened her with a knife and raped her. He then made the others take it in turn to rape her.
Today she is moving on with her life, but she still has reminders that they avoided prosecution.
"I've seen him quite a few times (the leader of the gang)…and he's living life. I will always remember him but I don't know if he even remembers me."
The CPS say the majority of the cases they deal with involve young girls who know their attacker and drink is often involved. They say this leads to problems with jury members' perceptions and prejudices.
Jane (not her real name) said she felt "numb" when the jury found her attacker not guilty.
She was staying at her friend's house when she woke up to find her friend's boyfriend raping her.
"I didn't fight or retaliate in any way because I was so shocked. I had known this man for several years and I trusted him and I just froze."
His defence was that he didn't remember it, but it must have been consensual sex. But Jane had been hopeful of a conviction.
"I can't put into words how I felt when they read that verdict out."
"The judge tells them they have to be 100% certain of the verdict which in my eyes is bizarre. It's human nature to have doubt and to have your own opinions."
But she still felt she had done the right thing.
"I could have just gone home that night and said nothing but I didn't let him ruin me. I don't know how but I'm here and I survived it."
I Never Said Yesis on BBC Three, Wednesday 28, 21:00 BST, or watch again oniPlayer.