UK soldier killed in blast named as Capt Rupert Bowers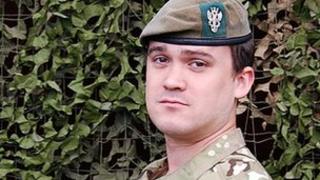 A soldier killed in a roadside bomb blast in Afghanistan on Wednesday has been named as Capt Rupert Bowers, 24.
The Wolverhampton-born soldier had been leading a patrol to clear an insurgent position, the Ministry of Defence said.
At the age of 19, Capt Bowers, of 2nd Battalion The Mercian Regiment, had been "mentioned in dispatches" for gallantry after rescuing a wounded soldier days into his first tour.
Commanding officer Lt Col Colin Marks called him the "bravest of the brave".
Capt Bowers' death brought the number of UK military deaths in Afghanistan since 2001 to 405.
He is survived by wife Victoria, month-old son Hugo, parents Patrick and Jane, and sister Juliet.
'Leading from front'
Soon after joining the Worcestershire and Sherwood Foresters Regiment in Helmand in 2007, he was one of eight men honoured for their roles in a battlefield rescue in the wake of an insurgent ambush.
He had previously been wounded in action and was attached to 2nd Battalion, The Rifles when he died.
Lt Col Marks said: "A gifted officer, he excelled in the field and was happiest when leading men in battle.
"He died as he lived, leading from the front in the face of the enemy."
Capt Bowers commanded a small team responsible for the training and development of the Afghan National Army in Helmand Province.
'Tactically aware'
He would be remembered for his keen sense of humour and the close bond he formed with his men, his comrades said.
Capt Duncan Hadland said Capt Bowers had grown from a young platoon commander to one of the Army's "most tactically aware and committed officers".
L/Cpl Matthew Moore described him as "the best boss I have ever worked with", adding: "He wouldn't think twice about putting his neck on the line for his men."
Defence Secretary Philip Hammond said he was saddened by the news of Capt Bowers' death and that his thoughts were with the captain's family.