'You rang, Your Majesty?'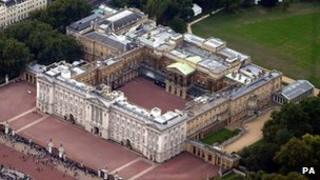 If you can carry out a range of duties from "messenger and valeting... to food and beverage service" in an "efficient and discreet manner", then you could be delivering the Queen's breakfast tray.
The Royal Household is advertising for a trainee butler - or footman.
While mainly based at Buckingham Palace, about three months a year would be spent at other royal residences.
The role pays £15,000 a year for a 45-hour week, and could lead to a City & Guilds Diploma for Butlers.
The official job description outlines the purpose of the role: "To provide the highest standards in the service of wine, food, valeting, messenger duties and reception in a friendly and efficient manner."
The trainee butler's responsibilities would include:
Assisting in the setting, clearing and serving of meals
Valeting for guests and royals, "ensuring that clothes and uniforms are cared for to the highest standards"
Messenger duties, "ensuring that all post, pouches, despatch boxes and messages are delivered to Members of the Royal Family and employees in a timely manner"
"To collect and deliver tea/coffee trays, breakfast trays and newspapers for Royal and Household purposes in an efficient and discreet manner"
The advert states that previous experience working in the catering and hospitality sector would be an advantage.
Essential skills include good time management, confident communication and team-working, as well as "a friendly, polite and approachable disposition with the ability to be discreet and maintain confidentiality".
The Royal Household is also advertising for a linen keeper to run the linen room at Windsor Castle.
The role involves "the issue, maintenance and repair of modern and antique linen, including fine tableware and lace dating back to the 1900s".
"Excellent hand and machine sewing skills" are required, to ensure any damaged linen is repaired "to the highest possible standard, as most linen is unique and irreplaceable".