Phone hacking: Rebekah Brooks questioned again by police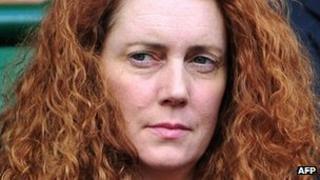 Former News International chief executive Rebekah Brooks has faced further police questioning after answering bail.
The 43-year-old was questioned at Milton Keynes police station by officers from Operation Elveden, the Metropolitan Police said.
She was re-bailed to return to a London police station in May.
Operation Elveden is the Met's investigation into corrupt payments to police officers.
Mrs Brooks's spokesman declined to comment.
She was last arrested on 13 March on suspicion of conspiring to pervert the course of justice as part of Operation Weeting, the Metropolitan Police's investigation into phone-hacking.
Five men were also detained, including Mrs Brooks's husband, Charlie, a racehorse trainer.
Mrs Brooks was first arrested last July on suspicion of conspiring to intercept communications and corruption, before being released on police bail.
The former Sun editor had resigned from her job at News International days earlier.
A total of 22 people have been arrested under Weeting, which has been running since January last year, Scotland Yard said.