Leveson Inquiry: Strathclyde officers 'taking money'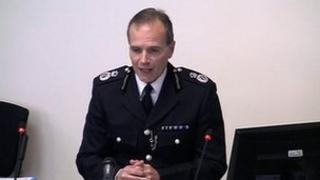 The head of Scotland's largest police force says he has "no doubt" there are individuals in his force "who are in receipt of money from various people".
Strathclyde Chief Constable Stephen House told the Leveson Inquiry the force had launched 45 probes into leaks to the press in the last five years.
He said most of the suspected leaks related to celebrities.
Earlier the Times crime editor said the inquiry - into media ethics - had had a "chilling effect" on police contact.
The Leveson Inquiry is currently examining the press's relationship with the police.
'Within certain bounds'
Mr House, who was touted as a candidate for the Commissioner of the Metropolitan Police last year, said that when he had taken over as chief constable he "did the rounds" of meeting editors to outline the relationship he wanted with the press.
He said: "Contact with the media is part of the job but must be within certain bounds, professional and for the public good."
Mr House said he remembered five occasions where he had accepted from the media some form of hospitality or offered it to them.
"We actively recruit into our media department from journalists, we need people who understand what journalists are looking for," he said.
"I don't think having a police officer run the press office is a good idea, a retrograde step."
Also giving evidence, Chief Constable of South Wales Police Peter Vaughan said, his force had "recalibrated" the way it dealt with the press after the publicity over a number of suicides among teenagers in the Bridgend area.
He said he did not socialise or dine with editors or journalists.
Earlier Times crime editor Sean O'Neill denied the paper made former Met assistant commissioner Andy Hayman a columnist as a "favour".
Questions have been raised about News International hiring Mr Hayman, who oversaw Scotland Yard's investigation into phone hacking at the News of the World in 2006.
But Mr O'Neill denied there was anything improper and said Mr Hayman had been his second choice after his predecessor Peter Clarke turned it down.
He told the inquiry it was important for reporters and officers to talk openly without being chaperoned by press officers.
He said he feared relationships with the police were breaking down.
Mr O'Neill, a member of the Crime Reporters' Association (CRA), said the "chilling effect of this inquiry" and a clampdown at the Met meant there was now "virtually no social contact with officers".
'Affiliation of rivals'
He said: "The CRA is a loose affiliation of rivals who would cut each other's throats to get a story first."
Mr O'Neill told the inquiry that journalists writing on specialist subjects have "to be wary of being taken captive by those they are writing about".
He said: "I do not think it is a healthy situation for reporters to accept hospitality from organisations they write about.
"In this job at all times you're walking tightrope - is it in public interest, do you write about it?" he said.
He also said he feared officers who speak to the press would be victimised if all meetings with the press were recorded.
The BBC's Ross Hawkinstweeted that Mr O'Neill said the Met could be a "viper's nest".
Mr O'Neill also criticised the Filkin Report into relationships between Met police officer and the press.
He quoted a passage from the report calling on the Met to "create an environment where the improper disclosure of information is condemned and deterred".
He said it read "as if it comes from an East German Ministry of Information manual rather than guidance for public servants in 21st century Britain".
Mr O'Neill praised Merseyside Police for their relationship with the press and their ability to offer facilities for journalists.