London 2012: Bearers charged to own Olympic relay torch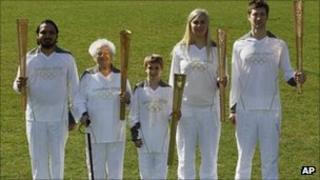 Olympic torchbearers will have to pay if they want the ultimate souvenir of the relay - their own torch.
From 20 March until 1 May, it will cost bearers £199 to buy a torch from Games organisers Locog, and during the relay the cost rises to £215.
Some torchbearers have told the BBC they thought the price for a torch was "an awful lot of money".
But Locog defended the cost, saying a torch costs £495 to make, and it was subsidising the price.
Thomas Read, who will carry the torch in Dartmouth, told the BBC: "I will need to think long and hard about whether or not to buy the torch. It would be a great souvenir from the day, but £200 is an awful lot of money to have to pay for it."
He added that although he was still "really excited" to be a torchbearer, it was a "shame" that "people are faced with such a dilemma".
"I'm sure not everyone will be able to afford it - a fact seems to go against the Olympic spirit. Surely it shouldn't come down to someone's financial circumstances?" he added.
Damien Davis, who will carry the torch through Ludgershall in Wiltshire said young people would struggle to find the money.
"Locog have made a lot of fuss about 50% of the torchbearers being aged between 12 and 24. How are these youngsters supposed to afford £200 to keep their torch?" he said.
"Why should anyone who can't afford to buy it be excluded?"
But Abul Kasam [pictured at the top of the story] tweeted about the cost: "Shame we have to pay for it. But what a great talking point for life."
'High specification'
Locog defended its decision to charge for the torches, describing them as "good value."
"We believe that this sale offers good value for a best-of-British designed, engineered and manufactured limited edition product," they said.
"Despite the high design specification of the torch, Locog wanted to make sure that torches were affordable for all of the 8,000 torchbearers."
Locog aim to sell torchbearers the actual torch they ran with, once the gas canister has been removed and the burner system disabled.
The Olympic organiser added it is "common practice" for Games organisers to offer torches to torchbearers for purchase.
One, Justin Williamson, from Purley, Texas, in the US, carried the torch during the Salt Lake City 2002 relay ahead of the winter Olympics, after being nominated for voluntary work at a local hospital.
He told the BBC he bought the torch for US$300 (£189), including the uniform.
"It was a little pricey, but I have a great memento to share with my kids now," he said.
Another commented on this story: "In Canada, the Vancouver 2010 torches were sold under the same conditions for $350 (£223). The uptake was high and they were being sold on eBay for over $1000.
"Overall, it is a cheap souvenir and you can probably get your money back if you want."
Frank Verge, who carried the 1948 Olympic torch, told the BBC that he, along with all the other torchbearers, was allowed to keep his torch for free.
A total of 1,688 were made for the relay, although he added that he thought "the design for the 1948 torches was much simpler than those of today".
The Olympic flame arrives in the UK on 18 May and begins its 70-day journey at Land's End the following day.
Locog allocated 33% (2,640) of the 8,000 torchbearers' places and said it was only able to extend the opportunity to buy the torch to that particular group.
The Games' presenting partners, Lloyds TSB, Samsung and Coca Cola, were each able to allocate 17% (1,360) of the places while 16% of the places went to other core stakeholders, such as the British Olympic Association, International Olympic Association and Games partners.
Coca-Cola announced they would pay for their torchbearers' torches, and said: "We are immensely proud to be celebrating over 1,300 inspirational people, our Future Flames, by giving them the incredible opportunity to run with the Olympic flame this summer.
"We want to ensure that all of the torchbearers selected by Coca-Cola have a memento of this once in a lifetime experience, which is why we are gifting them their very own London 2012 Olympic torch."
Lloyds TSB and Samsung have not yet revealed whether they will charge for their torches, and if so how much.
Details of the exact route were announced on Monday, along with the names of the majority of the 8,000 people who will carry the flame on its 8,000 mile journey.
Bearers were chosen on the basis of having a story of personal achievement or contribution to the local community.
'Cake sale'
Anyone who orders a torch but is unable to take part in the relay will be offered a full refund. "You will not be able to receive a torch," said Locog on their website.
The Olympic organisers suggested that anyone finding cost a factor in buying a torch should consider fundraising in their community, with a "cake sale" or "sponsored swim" as possible ideas.
"In past torch relays, some torchbearers have worked with friends, family, and the person who nominated them, their local community or a local school to raise money to buy a torch," they said.
Payments by card are accepted only on Visa although cheques, cash, postal order or bankers draft are also acceptable.
Torchbearer merchandise is also available, including a torch stand (£39), pin badge (£7), commemorative book (£19.99) and t-shirt (£21).