Peru cancels Royal Navy visit over Falklands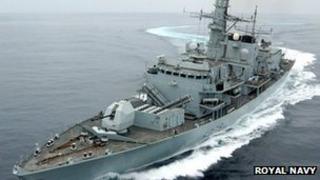 Peru has cancelled a visit by a Royal Navy frigate as an act of solidarity with Argentina in its dispute with the UK over the Falkland Islands.
HMS Montrosehad been due to dock at the El Callao naval base this week.
The UK Foreign Office said officials could have raised concerns with Foreign Office Minister Jeremy Browne when he was in the country last week.
Argentina insists the Falkland Islands, which it calls Las Malvinas, belong to it.
'Routine deployment'
Peruvian Foreign Minister Rafael Roncagliolo told news agency Andina Peru he supported Argentina's "legitimate rights" over the Falkland Islands.
He said: "This decision has been taken in the spirit of Latin American solidarity commitments undertaken in the framework of Unasur (Union of South American Nations) with regard to the legitimate rights of Argentina in the sovereignty dispute over the Falkland Islands, South Georgia and South Sandwich Islands and the surrounding waters."
The Foreign and Commonwealth Office (FCO) said the UK regretted Peru's decision .
A spokesman said: "HMS Montrose was scheduled to make a short visit to Peru as part of a routine deployment to the region.
"This was agreed as an act of friendship and co-operation between Peru and the UK. Ship visits are a sovereign decision for states, but we regret that Peru has revoked its previous agreement to this visit.
"This is despite the Peruvian government having had the opportunity on Friday to raise any concerns it had about this agreed co-operation."
The FCO said it had informed the Peruvian foreign ministry that the ship would have been delayed for technical reasons, but "there was no mutual decision to cancel".
Argentina has taken several steps recently to assert its claim that the Falklands belong to its government.
The UK and Argentina are preparing to mark the 30th anniversary of the Falklands War.
On 2 April 1982, Argentina invaded the Falklands, only to be defeated by a British task force sent to recover them.
The UK says there will be no negotiations on sovereignty as long as the Falkland islanders wish to remain British.
'No negotiations'
Last week Argentine minister Hector Timmerman threatened legal action against firms drilling off the islands.
But the UK Foreign Office said it was a legitimate commercial venture.
Argentine President Cristina Fernandez de Kirchner's government has also accused the UK of "militarising" the South Atlantic and criticised Prince William's deployment there after he was posted to work as a RAF rescue helicopter pilot.
Prime Minister David Cameron has said Britain will "continue to protect and defend" the islands and Downing Street has accused Argentina of pursuing a "policy of confrontation" over the Falkland Islands.
Following the Peruvian government's actions, the FCO spokesman added: "The UK government remains fully committed to the Falkland islanders' right to self determination. This position will not change."